Author Bios
Hazel Anderson, PT, DPT, Cert. MDT

Dr. Anderson started working as contributing faculty at the University of St. Augustine, Austin, Texas, in 2015 and moved to full time in 2017. Hazel is originally from Gweru, Zimbabwe. She moved to Scotland to study and graduated from Glasgow Caledonian University with a degree in Physiotherapy in 2007. She moved to the United States in 2008. She went on to complete her Doctor of Physical Therapy (DPT) through Texas Tech and has lived and worked in Austin, Texas, ever since. She has worked in a variety of hospital and clinic settings but especially enjoys outpatient orthopedics and, in particular, hip and lumbo-pelvic related problems. She is also very interested in overall Health and Wellness Promotion within the physical therapy scope of practice.
Nicole Patrice Borman, PT, PhD, MTC, CSCS

Dr. Borman is a graduate from the Texas Woman's University, Board-certified Specialist in Orthopedic Physical Therapy, Manual Therapy Certified, LSVT BIG® Certified, and Certified Strength and Conditioning Specialist who currently works as a Contributing Faculty in the Doctor of Physical Therapy Program at the University of St. Augustine for the Health Sciences in Austin. TX. She had the opportunity to publish journal articles on effect of position of stretch for hamstring muscle length, lumbar range of motion and lumbar curvature, and lumbar extremes of motion in women of different ages and races. Her scientific interests include the female athlete (youth to senior), teaching, and learning approaches for marginalized populations in physical therapy education.
Manuel A. Domenech, PT, DPT, MS, EdD

Dr. Domenech is an Associate Professor and Program Director of the Doctor of Physical Therapy program, University of St. Augustine for Health Sciences in Austin, Texas. Prior to accepting a faculty position at USAHS, he worked at Texas Tech University Health Sciences Center as Regional Dean of the School of Allied Health Sciences in Odessa, TX and Assistant Program Director for the DPT program. As a United States Air Force physical therapist with over 22 years of military service, he held many positions to include running two of the largest Air Force military clinics; teaching and coordinating clinical education experiences at the U.S. Army-Baylor Graduate Program in Physical Therapy; and serving as the Acting Director of the USAF Physical Therapist Assistant Program. His involvement with professional organizations has been varied and includes the following: American Physical Therapy Association/American Board of Physical Therapy Specialties (Board Member-4 years/Orthopaedic Specialty Council member-3 years), Texas Physical Therapy Association (House of Delegate-16 years), Commission on Accreditation of Physical Therapy Education (Site visitor-18 years), and Federal State Board of Physical Therapy (Examination Committee Development/Item Writer-9 years and Education Committee-3 years).
Dhinu J. Jayaseelan, DPT, OCS, FAAOMPT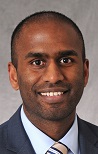 Dr. Jayaseelan is an Assistant Professor in The George Washington University's Program in Physical Therapy. He received a Bachelor of Science in Exercise Science from James Madison University and his Doctorate in Physical Therapy (DPT) from The George Washington University. He then completed advanced training at the Virginia Orthopedic Manual Physical Therapy Institute (VOMPTI). He also completed a post-professional fellowship at the University of Illinois at Chicago. Dr. Jayaseelan is a Board-Certified Specialist in Orthopaedics (OCS) and is a fellow in the American Academy of Orthopedic Manual Physical Therapists (FAAOMPT). Dr. Jayaseelan began teaching in his content area of expertise soon after graduating with his DPT. At George Washington University, he teaches courses in the management of musculoskeletal dysfunction, basic biomechanics, applied kinesiology and an advanced manual therapy elective. He also serves as co-academic director of the orthopedic residency which is a joint venture between Johns Hopkins Hospital and George Washington University. He also is on faculty with VOMPTI and a senior faculty advisor with the Maitland-Australian Physiotherapy Seminars. Dr. Jayaseelan frequently teaches continuing education courses in orthopedics and manual therapy regionally and nationally. Dr. Jayaseelan's research in orthopedics specifically focuses on the management of tendon dysfunction and patellofemoral pain. He is investigating the use of manual therapy for conditions, the presence and management of sensitization in peripheral health conditions, and the bias in clinical reasoning. He has published numerous peer-reviewed articles, a number of book chapters, and has received awards for his research at national conferences. In addition to performing research, Dr. Jayaseelan serves as a content expert and peer reviewer for a number of orthopedic, sports, and manual therapy journals, and is an Associate Editor for the Journal of Manual and Manipulative Therapy.
Navpreet Kaur, PT, DPT, PhD, MTC

Dr. Kaur is an Associate Professor at the University of St. Augustine (Austin campus). Dr. Kaur received a Bachelor in Physiotherapy in India in 2004. She worked as a physical therapist in an outpatient orthopedic/sports practice before becoming a full-time educator in 2013. Dr. Kaur completed her DPT and PhD (Orthopedics and Sport Science) at Rocky Mountain University of Health Professions. Her dissertation focused on developing new and effective exercises for shoulder rehabilitation. Dr. Kaur is also Manual Therapy Certified (MTC).
Ann Smith, PT, DPT, OCS, PCS

Dr. Smith is currently the Director of Occupational and Physical Therapy services at Dayton Children's Hospital in Dayton, Ohio. Dr. Smith graduated with her Bachelor of Science in Physical Therapy from Northwestern University and had a fulfilling career of 23 years as an officer in the US Air Force. Dr. Smith completed a Fellowship in Developmental Medicine at Georgetown University under Dr. Toby Long and received her Doctor of Physical Therapy from Rocky Mountain University. Dr Smith also has a Master's degree in management and is currently enrolled in an MBA program for Health Care professionals. She is board-certified in pediatrics and orthopedics. Her clinical practice focuses on pediatric orthopedics and she is currently involved in several research projects examining anterior cruciate ligament rehabilitation and gait and movement analysis in pediatrics.
Katherine Wilford, PT, DPT, Cert. MDT

Dr. Wilford is an Assistant Professor at the University of St. Augustine for Health Sciences in Austin, Texas. She graduated Summa Cum Laude with her Bachelor of Science with a concentration in Sports Medicine from Colorado State University in 2006 and a DPT from Boston University in 2009. She is currently enrolled in the Doctor of Science program in Physical Therapy program at Texas Tech University Health Sciences with an anticipated graduation date of the Fall 2020. Maintaining a Texas PT license, Dr. Wilford continues to treat patients in the outpatient orthopaedic setting. She received her certification in Mechanical Diagnosis and Therapy in 2013 and became a Board-certified Specialist in Orthopaedic Physical Therapy in 2016. Dr. Wilford is a member of the APTA, specifically the Orthopaedic, Research, and Education Sections.