30.31 - Special Topics: Optimizing Recovery
NOTE: This 3-monograph course is included with the 6-monograph set, 30.3, Special Topics: Enhancing Performance Using a Mind, Body, Metric Approach.
Course Description
This course focuses on Optimizing Recovery and is a blend of timely and informative topics relevant to today's practicing therapist. Experts in the field discuss unique topics dealing with the importance of sleep and nutrition, and new innovations to include blood flow restriction training.
Course Overview
Course Format: Online with an option to purchase the print version
Contact Hours: 15 contact hours
State Approval: AOPT courses are accepted in all states plus the District of Columbia, as allowed by the type of course requirements in state regulations. A small number of states require APTA to seek pre-approval of courses. The approval codes for these states can be found here. Always check with your State Licensing Board to confirm contact hours offered.
View Full State Approval Information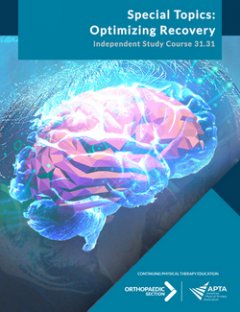 You need to login to purchase this course. If you do not have an account, click on the box below and follow the instructions for creating an account.
Login or Create Account
Pricing
| | Online Only | Online + Hard Copy |
| --- | --- | --- |
| AOPT Member | $120 | $145 |
| Non-AOPT Member | $220 | $245 |
Cancellation Policy
Due to the automation of our learning management system allowing you instant access to the online content and the immediate order placement for a plus print product, there are no refunds after an order is placed.
International Shipping Policy
International shipping is NOT available when purchasing a plus print copy of our independent study courses. The online copy allows you instant access to any course with the ability to print a pdf copy. Note: APO and FPO addresses are serviced by the USPS and the Military Postal Service Agency and are available for plus print shipping.
Course Objectives
Identify nutrition concerns that may interfere with optimal health and well-being.
Describe current evidence-based nutrient and supplement recommendations and their impact on healing and inflammation.
Provide recommendations on nutrition to optimize rehabilitation protocols and recovery from injury.
Identify events occurring during each phase of the sleep cycle.
Understand the implications of sleep loss on health.
Implement a sleep screening instrument in clinical physical therapy practice.
Understand of the physiology underlying the effectiveness of blood fl ow restriction.
Identify populations with whom to consider the use of blood fl ow restriction.
Appropriately prescribe blood fl ow restriction with resistance exercise based on current evidence.
Topics and Authors


Current Trends in Nutrition and Supplementation with Relevance to the Physical Therapist
Leslie Bonci, MPH, RD, CSSD, LDN
Let Me Sleep On It: Sleep for Healthy Aging and Optimal Performance
Kristinn I. Heinrichs, PhD, PT, NCS, SCS, ATC; Melanie M. Weller, MPT, OCS, CEEAA, ATC
Blood Flow Restricted Exercise: Physical Therapy Patient Management Using Current Evidence
Johnny G. Owens, MPT; Luke Hughes, PhD; Stephen Patterson, PhD