SS2023 - 12-Day Seminar: Hands-On, In-Person Seminar Series
Guidelines-based Diagnosis and Treatment of Common Musculoskeletal Disorders using Manual Therapy, Movement Reeducation, and Exercise
Please note: Registration is open to Physical Therapists and Physical Therapy Assistants only.
Seminar Series Location
The Cardon Center for Continuing Education
Cardon Rehabilitation and Medical Equipment Ltd
Burlington, Ontario, Canada
Course Description
This seminar series aims to train the practitioners in the skills required to implement the Academy of Orthopaedic Physical Therapy's Clinical Practice Guidelines at a high level. All participants are provided with interactive digital learning tools to prepare them with the knowledge of the clinical guidelines before attending the seminars. Participants will also be encouraged to take and pass the AOPT's CPG Knowledge Competency Examination before the 12 days of this hands-on skill-building seminar series. The pre-session online knowledge components enable the in-person sessions to be 12 days of fast-paced, high-level skill-building.
Course Overview
Session 1 – Low Back
Click on the links below to view Session 1 details:
Session 2 – Hip, Knee, Ankle and Foot
Click the links below to view Session 2 details:
Session 3 – Neck and Thorax
Click on the links below to view Session 3 details.
Session 4 – Shoulder, Elbow, Wrist and Hand
Click below to view Session 4 details: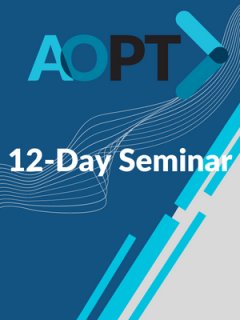 You need to login to purchase this course. If you do not have an account, click on the box below and follow the instructions for creating an account.
Login or Create Account
Pricing
| | Online Only |
| --- | --- |
| AOPT Member | $2,000 |
| Non-AOPT Member | $2,500 |