28.5E - Basic Research Methods for Understanding the Physical Therapy Literature
Note: This course is a audio-based power point presentation. There is no option to purchase a hard copy version of this course.
CEUs are not offered for this course.
Course Description
Listen, Read, and Learn
This 3 ¾ hour audio-based PowerPoint presentation will serve as a comprehensive and user friendly introduction on "need to know" topics on research design and statistics. After viewing, clinicians will more fully understand the latest research in physical therapy. Dr. Coyle has an inviting tutorial style and breaks the material down into a very digestible and well-paced format. This work is not only for the novice research clinician but can serve as a useful tool for physical therapy students and also seasoned clinicians who need a refresher on research methods and statistics in order to full participate in evidence-based practice.
Course Overview
Course Format: Online
Pricing
| | Online Only |
| --- | --- |
| AOPT Member | $35 |
| Non-AOPT Member | $50 |
Cancellation Policy
Due to the automation of our learning management system allowing you instant access to the online content and the immediate order placement for a plus print product, there are no refunds after an order is placed.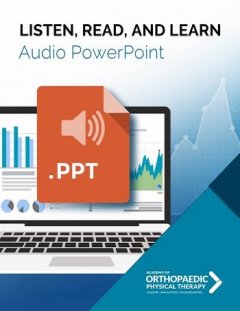 You need to login to purchase this course. If you do not have an account, click on the box below and follow the instructions for creating an account.
Login or Create Account
Course Objectives
Be able to evaluate the hierarchy of levels of evidence when interpreting the strength of research findings in physical therapy.
Understand the role of statistics and hypothesis testing in evaluating research findings.
Understand the most common research designs used in studies in physical therapy
Be able to distinguish between reliability and validity and their importance in interpreting research.
Be able to differentiate between statistical tests of relationships and also tests of differences when interpreting the literature in physical therapy.
Have an appreciation of the importance of common measures such as minimal clinically important difference, diagnostic testing and accuracy, and receiver operating characteristic curves.
Topics and Authors


Peter Coyle, PT, DPT, PhD