28.4E - Pharmacology
Note: CEUs are not offered for this course.
Course Description

Pharmacology plays a significant role in administering physical therapy to a patient. Clinicians must be aware of not only what medications patients are taking but also the impact these drugs have on the neuromusculoskeletal system. This series covers the most common knowledge needed to effectively understand issues for common cardiovascular conditions, diabetes mellitus, and the management of pain. There are two unique aspects in this series. The first is a re-issue of a popular and previously offered monograph (bonus) that reviews the principles of pharmacotherapeutics. This monograph serves as an introduction for those readers who may not be familiar with pharmacotherapeutics or can serve as a comprehensive review for those who have a previous education on the topic. The second is an audio-based PowerPoint presentation that adds a dynamic element to the coverage of pharmacology and pain management. Dr. Tinsley's oral presentation and excellent slide presentation will engage the listener and allow her to share her enthusiastic conversational style. Case study presentations are included to reinforce the didactic material.
Course Overview
Course Format: Online
Pricing
| | Online Only |
| --- | --- |
| AOPT Member | $35 |
| Non-AOPT Member | $50 |
Cancellation Policy
Due to the automation of our learning management system allowing you instant access to the online content and the immediate order placement for a plus print product, there are no refunds after an order is placed.
International Shipping Policy
International shipping is NOT available when purchasing a plus print copy of our independent study courses. The online copy allows you instant access to any course with the ability to print a pdf copy. Note: APO and FPO addresses are serviced by the USPS and the Military Postal Service Agency and are available for plus print shipping.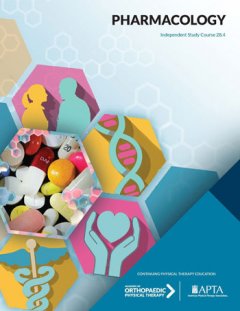 You need to login to purchase this course. If you do not have an account, click on the box below and follow the instructions for creating an account.
Login or Create Account
Course Objectives
Understand the pathophysiology of common cardiovascular conditions as relevant to the pharmacological management of those conditions.
Identify drug classes used to treat common cardiovascular conditions, including heart failure, angina pectoris, myocardial infarction, arrhythmia, hypertension, and blood clot.
Describe the mechanism of action for each drug class used in the treatment of a cardiovascular condition and its relevance to the pathophysiology of the condition.
Describe the interaction between pharmacology and physical therapy in the treatment of common cardiovascular conditions.
Understand the pathophysiology of diabetes mellitus, including the differences between Type 1 and Type 2.
Identify oral and injectable anti-diabetic drug classes used to treat Type 2 diabetes mellitus and their mechanism of actions.
Understand the side effects of drugs used to treat Type 2 diabetes mellitus as relevant to physical therapy.
Understand the relationship between insulin and exercise.
Understand the general principles of pharmacology as they relate to clinical decision-making and outcomes in the physical therapy management of a patient.
Identify the important components of pharmacotherapeutic principles as they relate to all populations and their impact on the physical therapy management of a patient
Topics and Authors


Pharmacological Management for Cardiovascular Conditions
Melissa Bednarek, PT, DPT, PhD, CCS
Pharmacological Management for Diabetes Mellitus
Melissa Bednarek, PT, DPT, PhD, CCS
Principles of Pharmacotherapeutics (Reissued from ISC 16.1.1)
Suzanne L. Tinsley, PT, PhD
Pharmacology for Pain (Audio Aided PowerPoint Presentation)
Suzanne L. Tinsley, PT, PhD