27.3 - Clinical Imaging
25% Off While Supplies Last!
Course Description
This monograph series covers an introduction to the basic principles underlying the science and diagnostic utility of imaging for the physical therapist. The first monograph is a primer that discusses principles of conventional plain film radiographs (x-rays); computed tomography (CT scans), magnetic resonance imaging, ultrasound imaging; diagnostic ultrasound and rehabilitative ultrasound imaging; and nuclear imaging. The second and third monographs cover imaging for the spine and extremities and its role in the evaluation of select musculoskeletal injuries. Application of the material is enhanced through the presentation of case studies.
Course Overview
Course Format: Online with an option to purchase the print version
Contact Hours: 15 contact hours
State Approval: AOPT courses are accepted in all states plus the District of Columbia, as allowed by the type of course requirements in state regulations. A small number of states require APTA to seek pre-approval of courses. The approval codes for these states can be found here. Always check with your State Licensing Board to confirm contact hours offered.
View Full State Approval Information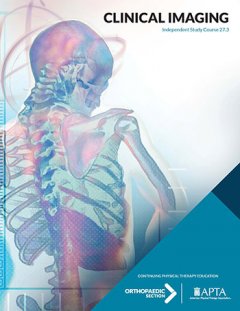 You need to login to purchase this course. If you do not have an account, click on the box below and follow the instructions for creating an account.
Login or Create Account
Pricing
Online Only
Online + Print
AOPT Member

$105

$79

$94
Non-AOPT Member

$205

$154

$169
Cancellation Policy
Due to the automation of our learning management system allowing you instant access to the online content and the immediate order placement for a plus print product, there are no refunds after an order is placed.
International Shipping Policy
International shipping is NOT available when purchasing a plus print copy of our independent study courses. The online copy allows you instant access to any course with the ability to print a pdf copy. Note: APO and FPO addresses are serviced by the USPS and the Military Postal Service Agency and are available for plus print shipping.
Course Objectives
Describe the importance of having physical therapists study imaging.
Identify relevant anatomy on diagnostic images.
Define the different types of musculoskeletal imaging and the distinguishing information gathered from each.
Understand basic radiographic terminology and the basic principles of radiography.
Discuss factors that influence resolution, quality, and interpretation of imaging.
Discuss basic viewing strategies for plain film, computed tomography, and magnetic resonance images.
Discuss differences among and indications for various imaging methods and modalities.
Understand the clinical decision making model for determining image sequence using American College of Radiology-
Appropriateness Criteria and other clinical prediction rules.
Understand the use of evidence-based guidelines for application of imaging modalities for musculoskeletal disorders of the extremities.
Discuss the imaging findings for musculoskeletal disorders of the spine and extremities in the context of clinical presentations of patients.
Identify signs and symptoms of red flags and specific causes of spine pain that require emergent referral and/or immediate imaging.
Appropriately refer patients with acute and chronic spinal disorders for diagnostic imaging based on clinical practice guidelines.
Synthesize available patient examination findings with imaging evidence to develop more effective intervention strategies.
Topics and Authors
Basic Diagnostic Imaging Principles
Ira Gorman, PT, PhD
Imaging of the Extremities
Deepak Kumar, PT, PhD, OCS; Amee L. Seitz, PT, PhD, DPT, OCS
Spinal Imaging: Update for the Treating Physical Therapist
J. Megan Sions, DPT, PhD, OCS; James Elliott, PT, PhD; George J. Beneck, PT, PhD, OCS, KEMG; Charles Hazle, PT, PhD