28.8 - Special Collection Series - Shoulder
NOTE: CEUs Not Offered For This Course

Course Description
This monograph set is part of the Editor's "Special Collections" that bundle the best single monographs from various series we have published. The Special Collections are joint region based and include the hip, knee, and shoulder. By creating this ala carte product registrants will be able to "dig deep" into the care of a particular joint complex.
Course Overview
Course Format: Online with an option to purchase the print version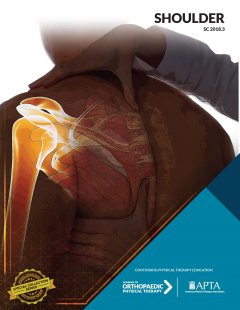 You need to login to purchase this course. If you do not have an account, click on the box below and follow the instructions for creating an account.
Login or Create Account
Pricing
Online Only
Online + Hard Copy
AOPT Member

$85

$40

$65
Non-AOPT Member

$185

$140

$165
Cancellation Policy
Due to the automation of our learning management system allowing you instant access to the online content and the immediate order placement for a plus print product, there are no refunds after an order is placed.
International Shipping Policy
International shipping is NOT available when purchasing a plus print copy of our independent study courses. The online copy allows you instant access to any course with the ability to print a pdf copy. Note: APO and FPO addresses are serviced by the USPS and the Military Postal Service Agency and are available for plus print shipping.
Course Objectives
Understand the anatomical and biomechanical concepts that form the framework of shoulder evaluation and treatment.
Identify key clinical tests used to evaluate a patient with shoulder dysfunction.
Appropriately interpret clinical examination findings of the shoulder complex using evidence-based clinical reasoning.
Understand the role of imaging, functional testing, and isokinetic testing in a patient with shoulder dysfunction.
Develop evidence-based strategies to manage nonoperative shoulder dysfunction.
Identify proper indications and contraindications for range of motion and strengthening interventions for patients following common surgical procedures.
Understand the underlying mechanisms and patient presentation of the patient with a frozen shoulder.
Describe the active and passive restraints about the shoulder, including their anatomical differences, the key roles in providing stability, and the relationship to glenohumeral instability.
Differentiate between anterior, posterior, and multidirectional instability and describe patient reported symptoms as well as typical injury patterns for each direction of shoulder instability.
Discuss the difference in the pathomechanics and management of traumatic and atraumatic shoulder instability.
Describe possible concomitant and secondary injuries associated with shoulder instability.
Determine and perform an examination using appropriate tests and measures to assess shoulder instability and the associated impairments and functional limitations.
Determine the appropriate use of diagnostic testing, as well as recognize and describe the difference between normal and abnormal findings.
Describe the patient population that is most appropriate for nonoperative management of shoulder instability and implement an evidence-based rehabilitation program.
Identify the criteria for operative management and demonstrate an understanding of the surgical techniques, possible complications, postoperative precautions, and rehabilitation goals shoulder instability.
Describe the recommendations and differences for returning a patient, surgical and nonsurgical, to prior level of function, occupation, and sport for shoulder instability.
Describe, use, and interpret appropriate outcome measures for shoulder instability.
Identify the pathogenesis, evaluation, and surgical considerations involved in the replacement of the glenohumeral joint.
Understand the surgical technique for hemiarthroplasty, total shoulder arthroplasty, and reverse total shoulder arthroplasty.
Develop an appropriate rehabilitation program based on an understanding of the bony and soft tissue status of the patient and the surgical procedure performed.
Understand potential surgical and postsurgical precautions and complications following shoulder arthroplasty.
Topics and Authors
Joint Arthroplasty: Advances in Surgical Management and Rehabilitation: Shoulder Arthroplasty
Todd R. Hooks, PT, SCS, ATC, MOMT, MTC, CSCS; Andrew Hsiao, MD; James R. Andrews, MD
Alternative Special Topics: Innovations in Practice: Shoulder Instability: A Review of Anatomical and Biomechanical Considerations, Prevalence, and Diagnosis as well as Nonoperative and Operative Management
Brittany Lynch, PT, DPT, SCS, OCS; Tara Ridge-Hankin, MS, PT, SCS; Dharmesh Vyas, MD, PhD
Current Concepts of Orthopaedic Physical Therapy 4th Ed: The Shoulder: Physical Therapy Patient Management Using Current Evidence
Todd S. Ellenbecker, DPT, MS, SCS, OCS, CSCS; Robert C. Manske, DPT, MEd, SCS, ATC, CSCS; Marty Kelley, PT, DPT, OCS