28.7 - Special Collection Series - Knee
NOTE: CEUs Not Offered For This Course
Course Description
This monograph set is part of the Editor's "Special Collections" that bundle the best single monographs from various series we have published. The Special Collections are joint region based and include the hip, knee, and shoulder. By creating this ala carte product registrants will be able to "dig deep" into the care of a particular joint complex.
Course Overview
Course Format: Online with an option to purchase the print version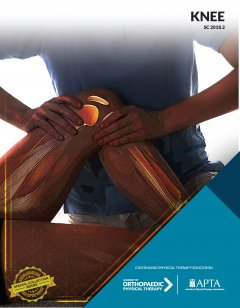 You need to login to purchase this course. If you do not have an account, click on the box below and follow the instructions for creating an account.
Login or Create Account
Pricing
Online Only
Online + Hard Copy
AOPT Member

$160

$80

$120
Non-AOPT Member

$260

$180

$220
Cancellation Policy
Due to the automation of our learning management system allowing you instant access to the online content and the immediate order placement for a plus print product, there are no refunds after an order is placed.
International Shipping Policy
International shipping is NOT available when purchasing a plus print copy of our independent study courses. The online copy allows you instant access to any course with the ability to print a pdf copy. Note: APO and FPO addresses are serviced by the USPS and the Military Postal Service Agency and are available for plus print shipping.
Course Objectives
Identify and discuss anatomical and biomechanical factors that influence the evaluation and treatment of knee dysfunction.
Use evidence-based practice to determine appropriate tests and measures, examinations, evaluations, plans of care, and interventions.
Screen and rule out for other pathology or conditions, including identifying red and yellow flags that refer to the knee.
Provide rationale for interventions aimed at resolving identified impairments, how to progress these interventions, and how to assess effectiveness of those interventions.
Explain the importance of neuromuscular risk factors for anterior cruciate ligament injury and their application to injury prevention strategies.
Identify components of successful injury prevention programs and the principles of appropriate progression of exercises.
Discuss clinical decision-making considerations regarding nonoperative versus surgical management for acute anterior cruciate ligament rupture.
Identify factors that influence the outcome of nonoperative management for anterior cruciate ligament rupture.
Describe important components of a nonoperative rehabilitation program for patients with acute anterior cruciate ligament rupture.
Describe how conservative and surgical management of anterior cruciate ligament injury effects short and long-term outcomes.
Understand the relevant anatomy and biomechanics of the anterior cruciate ligament injury and the mechanism of injury.
Understand and describe the current theories related to the mechanism of injury.
Describe and perform clinical tests for diagnosing anterior cruciate ligament injury tears.
Understand the role of imaging in diagnosis of an anterior cruciate ligament injury tear.
Describe the most current surgical procedures for anterior cruciate ligament repair and differences in recovery and rehabilitation.
Describe surgical and rehabilitation considerations for adolescents undergoing anterior cruciate ligament injury reconstruction.
Identify and discuss the components and value of a criterion-based and progressive rehabilitation program.
Develop a working treatment strategy to prioritize preoperative and postoperative impairments for treatment emphasis following anterior cruciate ligament reconstruction.
Provide evidence based rationale for interventions and progression criteria for managing an anterior cruciate ligament injury.
Identify and understand common concurrent injuries that may complicate an anterior cruciate ligament rehabilitation program.
Identify the most common pharmacological interventions for knee osteoarthritis treatment.
Identify 6 commonly used nonpharmacological conservative treatments for osteoarthritis.
Discuss 3 surgical alternatives to total knee arthroplasty for treatment of knee osteoarthritis.
Identify factors correlated to poorer outcomes following total knee arthroplasty.
Demonstrate knowledge of differences and similarities between the common surgical approaches for knee arthroplasty.
Identify common reasons for revision total knee arthroplasty.
Identify factors shown to predict complications following total knee arthroplasty.
Demonstrate knowledge of different phases of rehabilitation after total knee arthroplasty.
Describe rehabilitation goals and functional measures for a patient following total knee arthroplasty.
Demonstrate knowledge of activity recommendations following total knee arthroplasty for prosthesis survival.
Topics and Authors
Update on Anterior Cruciate Ligament Injuries: Designing an Anterior Cruciate Ligament Injury Prevention Training Program
Susan M. Sigward, PT, PhD, ATC
Update on Anterior Cruciate Ligament Injuries: Rehabilitation for the Anterior Cruciate Ligament-deficient Knee
Terese L. Chmielewski, PT, PhD, SCS; Wendy J. Hurd, PT, PhD, SCS
Update on Anterior Cruciate Ligament Injuries: Rehabilitation Following Anterior Cruciate Ligament Reconstruction
Airelle O. Hunter-Giordano, PT, DPT, OCS, SCS, CSCS; Erin Burlovich, PT, DPT; Tara Jo Manal, PT, DPT, OCS, SCS
Joint Arthroplasty: Advances in Surgical Management and Rehabilitation: Surgical Management and Rehabilitation of Knee Arthroplasty
Michael Bade, PT, MPT, FAAOMPT; Karla A. Bell, PT, DPT, OCS; Jennifer Stevens-Lapsley, PT, MPT, PhD; Tara Jo Manal, PT, DPT, OCS, SCS
Alternative Special Topics: Innovations in Practice: Advances in Anterior Cruciate Ligament Surgery and Rehabilitation
Kristi Campanella, PT, DPT, OCS, MEd
Current Concepts of Orthopaedic Physical Therapy (4th Edition) The Knee: Physical Therapy Patient Management Using Current Evidence
Tara Jo Manal, PT, DPT, OCS, SCS, FAPTA; Anna Shovestul Grieder, PT, DPT, OCS; Bryan W. Kist, PT, DPT, OCS