28.6 - Special Collections Series - Hip
NOTE: CEUs Not Offered For This Course
Course Description
This monograph set is part of the Editor's "Special Collections" that bundle the best single monographs from various series we have published. The Special Collections are joint region based and include the hip, knee, and shoulder. By creating this ala carte product registrants will be able to "dig deep" into the care of a particular joint complex.
Course Overview
Course Format: Online with an option to purchase the print version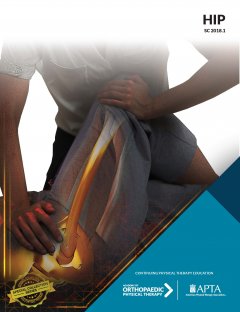 You need to login to purchase this course. If you do not have an account, click on the box below and follow the instructions for creating an account.
Login or Create Account
Pricing
| | Online Only | Online + Print |
| --- | --- | --- |
| AOPT Member | $160 | $200 |
| Non-AOPT Member | $260 | $300 |
Cancellation Policy
Due to the automation of our learning management system allowing you instant access to the online content and the immediate order placement for a plus print product, there are no refunds after an order is placed.
Course Objectives
Understand the anatomical and kinesiological function of the hip.
Integrate knowledge of normal hip function to therapeutic programs that enhance function.
Use evidence-based clinical judgment in implementing therapeutic exercises to optimize functional outcomes.
Understand the kinetics and kinematics of the normal hip during the gait cycle.
Characterize the gait deviations commonly observed after specific orthopaedic injuries.
Describe the evidence for interventions suggested to improve aberrant gait deviations after specific orthopedic injuries and the theorized mechanisms of effect.
Describe anatomy and biomechanics of the coxofemoral joint and apply the clinical and pathoanatomical association during an examination.
Discuss the role of pain in the evaluation process and its relevance to classification, identification, and provocation in the treatment of hip disorders.
Recognize signs and symptoms associated with conditions such as arthritis, tendinopathy, labral tears, and nerve entrapments.
Discuss the indications and contraindications for the use of mobilization and manipulation techniques for the hip complex.
Understand and appraise the decision-making process leading to the surgical management of various hip disorders, including arthrosis, labral lesions, dysplasia, and fracture.
Plan and implement evidence-based rehabilitation programs for common disorders and injuries affecting the hip.
Describe the different types of reliable and valid functional performance tests commonly used with patients having hip dysfunction.
Use functional performance tests to assist in differential diagnosis of hip-related pathology.
Use functional performance tests to measure the progress of patients diagnosed with hip-related dysfunction.
Appreciate the common indications and decision-making underlying hip joint arthroplasty.
Describe the intraoperative and postsurgical complications following hip joint arthroplasty and their impact on the rehabilitative plan of care.
Develop a postoperative outcomes-based rehabilitation program following hip arthroplasty inclusive of acute care management through return to function/sports.
Understand current surgical techniques used to treat pathological conditions of the hip joint.
Understand and apply concepts of tissue healing during rehabilitation.
Topics and Authors
Joint Arthroplasty: Advances in Surgical Management and Rehabilitation: Hip Arthroplasty
Diane M. Heislein, PT, DPT, MS, OCS
Injuries to the Hip: Functional Performance Testing of the Hip
Benjamin R. Kivlan, PT, MS; RobRoy L. Martin, PT, PhD
Injuries to the Hip: Therapeutic Exercise for Hip Rehabilitation: An Evidence-based Approach
Gordon Riddle, PT, DPT, ATC, OCS, SCS, CSCS; Omar Ross, PT, DPT, OCS
Biomechanics of Gait: The Hip
Abagale Reddy, PT, DPT; Julie Bage, PT, DPT, OCS; David Levine, PT, PhD, DPT, OCS, CCRP, CertDN
Current Concepts of Orthopaedic Physical Therapy (4th Edition): The Hip: Physical Therapy Patient Management Using Current Evidence
Michael McGalliard, PT, ScD, COMT; Phillip S. Sizer Jr, PT, PhD, OCS, FAAOMPT; Dean Ezell, MD
Postoperative Management of Orthopaedic Surgeries: Hip
Keelan Enseki, PT, MS, OCS, SCS, ATC, CSCS; Dave Kohlrieser, PT, DPT, OCS, SCS, CSCS; Craig Mauro, MD; Michaela Kopka, MD, FRCSC; Tom Ellis, MD
Therapeutic Exercise for Hip Rehabilitation, Supplement: Exercise Booklet
Gordon Riddle, PT, DPT, ATC, OCS, SCS; Omar Ross, PT, DPT, OCS