28.41 - Pharmacological Management for Cardiovascular Conditions
Note: CEUs are not offered for this course.
Course Description
The author first defines polypharmacy and describes its implications for the older adult. The pathophysiology underlying common cardiovascular diseases in the older adult are then reviewed. Drug classes (I – IV) used to treat each condition coupled with the implications of these drugs on physical therapy are highlighted. Heart failure, angina pectoris, myocardial infarction, arrhythmia, hypertension, and blood clot conditions are discussed in detail. The author nicely relates each drug and condition back to potential side effects and how these have direct implications for the treating physical therapist. The inclusion of a summary table allows the reader a quick reference to the medications discussed.
Two case studies conclude the monograph. Both cases relate the implication of pharmacy intervention for cardiovascular care along with a primary orthopaedic condition. The first case report involves a 55-year-old male complaining of low back pain with a significant cardiovascular history. The second case is a 65-year-old female who visits outpatient physical therapy 10 days status post right knee replacement and she also has a significant cardiovascular history. Ten review questions follow the case studies and will test your application of the content presented.
In summary, given the high incidence and prevalence of the various cardiovascular conditions discussed, there is a high probability that a physical therapist will treat a patient with one or more of these conditions who is also taking one or more medications. Having a strong knowledge of the effects and possible side effects of medications is an important part of restoring the health of our patients..
Course Overview
Course Format: Online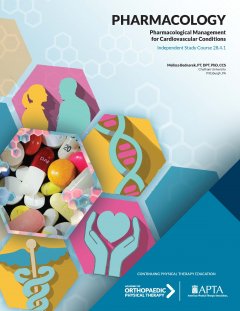 You need to login to purchase this course. If you do not have an account, click on the box below and follow the instructions for creating an account.
Login or Create Account
Pricing
| | Online Only |
| --- | --- |
| AOPT Member | $35 |
| Non-AOPT Member | $50 |
Cancellation Policy
Due to the automation of our learning management system allowing you instant access to the online content and the immediate order placement for a plus print product, there are no refunds after an order is placed.
Course Objectives
Define polypharmacy and describe its consequences for the older adult. Understand the pathophysiology of common cardiovascular conditions as relevant to the pharmacological management of those conditions.
Identify drug classes used to treat common cardiovascular conditions, including heart failure, angina pectoris, myocardial infarction, arrhythmia, hypertension, and blood clot.
Describe the mechanism of action for each drug class used in the treatment of a cardiovascular condition and its relevance to the pathophysiology of the condition.
Understand the side effects of drugs used to treat common cardiovascular conditions and how these side effects may affect physical therapy.
Describe the interaction between pharmacological management and physical therapy in the treatment of common cardiovascular conditions.
Topics and Authors
Melissa Bednarek, PT, DPT, PhD, CCS