27.4 - Frontiers in Orthopaedic Science
25% Off While Supplies Last!
Course Description

This monograph series introduces the reader to the emerging fields of regenerative medicine and sensor technologies and their role in advancing orthopaedic rehabilitation. Experts in each of these areas share their insight on what the future holds and how it can impact physical therapy practice and rehabilitation. A review of the biology underlying tissue injury and repair are covered along with the role stem cell therapy can provide. Specific technology applications are provided for telehealth and virtual reality.
Course Overview
Course Format: Online with an option to purchase the print version
Contact Hours: 15 contact hours
State Approval: AOPT courses are accepted in all states plus the District of Columbia, as allowed by the type of course requirements in state regulations. A small number of states require APTA to seek pre-approval of courses. The approval codes for these states can be found here. Always check with your State Licensing Board to confirm contact hours offered.
View Full State Approval Information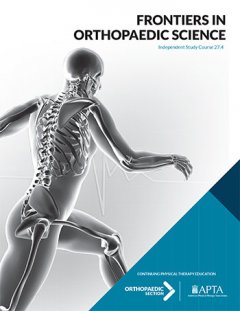 You need to login to purchase this course. If you do not have an account, click on the box below and follow the instructions for creating an account.
Login or Create Account
Pricing
Online Only
Online + Print
AOPT Member

$105

$79

$94
Non-AOPT Member

$205

$154

$169
Cancellation Policy
Due to the automation of our learning management system allowing you instant access to the online content and the immediate order placement for a plus print product, there are no refunds after an order is placed.
International Shipping Policy
International shipping is NOT available when purchasing a plus print copy of our independent study courses. The online copy allows you instant access to any course with the ability to print a pdf copy. Note: APO and FPO addresses are serviced by the USPS and the Military Postal Service Agency and are available for plus print shipping.
Course Objectives
Describe the primary stages and timeframes for tissue healing following injury.
Discuss the role of the inflammatory process in optimizing recovery.
Discuss local and systemic factors impacting tissue healing.
Describe the structure of peripheral nerves.
Explain the repair and regeneration process following nerve injury.
Discuss the importance of Schwann cells in repair and regeneration of peripheral nerves.
Cite 3 fields of study that can successfully merge engineering technologies with physical therapy.
Understand the different types of sensing technologies and their potential role in rehabilitation.
Define robotics and describe the opportunities and challenges of using robots in physical therapy.
Describe how engineering technologies are expanding physical therapy practice.
Describe the fundamental biology of a stem cell and therapeutic applications of stem cells.
Describe the underlying technologies used to engineer tissue.
Discuss cellular therapeutics and the impact on treatment of orthopaedic conditions.
Cite current evidence for the use of regenerative medicine technologies in orthopaedic clinical practice.
Provide examples of telehealth applications and evidence supporting its use in musculoskeletal rehabilitation.
Provide examples of virtual reality applications and evidence supporting its use in musculoskeletal rehabilitation.
Discuss practical strategies for implementing telehealth into musculoskeletal rehabilitation.
Discuss the practical considerations for implementing virtual reality into musculoskeletal physical therapist practice.
Provide recommendation and future directions for telehealth and virtual reality with advances in te
Topics and Authors


The Science of Neuromuscular Healing
Andrew Piraino, PT, DPT, OCS, CSCS
Interfacing Engineering Technology and Rehabilitation: A New Frontier for Physical Therapy
Randy Trumbower, PT, PhD; Denise M. Peters, PT, PhD; Steven L. Wolf, PT, PhD, FAPTA
Regenerative Medicine
Nana Takenaka-Niganawa, PT, PhD; Akira Ito, PT, PhD; Tomoki Aoyama, MD, PhD
Telehealth and Virtual Reality in Musculoskeletal Practice
Alan C. Lee, PT, PhD, DPT, CWS; Judith Deutsch, PT, PhD, FAPTA