27.14 - Cervical and Lumbar Spine
Note: CEUs are not offered for this course.
Course Description
In the monograph, Dr. Reuteman discusses a comprehensive approach to physical therapy management for patients undergoing lumbar or cervical surgery. Indications for surgery are presented to assist clinicians to make informed decisions of when to refer patients for surgical consultation. Different surgical procedures for the lumbar and cervical spine are described. Short- and long-term outcomes for each procedure are offered. Variables are considered to assist in developing a patient-centered preoperative and postoperative plan of care. These variables include preoperative patient education, red flag screening following surgery, evidence-based outcome tools, and physical therapy interventions including cognitive and behavioral therapy, graded activity/exposure, muscle coordination/strengthening exercises, and neurodynamic mobilizations.

Two case studies are presented at the end of the monograph to highlight how patients undergoing spinal surgery may be managed within the physical therapy patient-client management model. Each case highlights strong clinical reasoning and proper care. The first case involves a 46-year-old female referred to physical therapy 6 weeks following a lumbar microdiscectomy procedure. She presents with elevated fear-avoidance behaviors and hopes to return to recreational running and light weight lifting. The second case involves a 44-year-old male preferred to physical therapy 6 weeks following an anterior cervical decompression and fusion procedure with residual arm weakness. He would like to return to full work activities as a high school vice principal, and recreational tennis and playing baseball with his children. Each case study will test your clinical decision making ability.
This monograph to be a very informative and useful reference for working with patients with disorders of the cervical and lumbar spine. The work represents a nice synthesis of the current evidence in this area of care and how the clinician can maximize patient outcomes.
Course Overview
Course Format: Online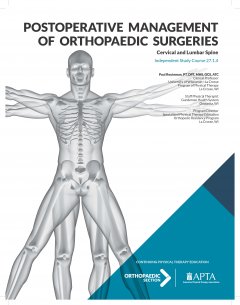 You need to login to purchase this course. If you do not have an account, click on the box below and follow the instructions for creating an account.
Login or Create Account
Pricing
| | Online Only |
| --- | --- |
| AOPT Member | $35 |
| Non-AOPT Member | $50 |
Cancellation Policy
Due to the automation of our learning management system allowing you instant access to the online content and the immediate order placement for a plus print product, there are no refunds after an order is placed.
Course Objectives
Upon completion of this monograph, the course participant will be able to:
Synthesize and recite the current evidence comparing conservative care versus early surgery in different subgroups of patients with cervical and lumbar spine pain.
Identify the clinical findings that identify patients who are most likely to benefit from cervical or lumbar surgical intervention.
Compare and contrast the different surgical options for treatment of cervical and lumbar pain.
Synthesize and recite the current level of evidence that compares active rehabilitation to no rehabilitation following cervical and lumbar surgery.
Understand and implement preoperative rehabilitation strategies.
Screen and appropriately manage postoperative complications.
Develop a rehabilitation program for patients who have undergone different cervical and lumbar surgeries based on the current level of evidence.
Implement and interpret outcome measures for postoperative patients.
Topics and Authors
Paul Reuteman, PT, DPT, MHS, OCS, ATC