23.3 - PT Evaluation of the Animal Rehab Patient
Note: CEUs are not offered for this course.
Course Description
This 2-monograph series presents animal rehabilitation for the canine and equine populations. The importance of using clinical reasoning skills to guide the assessment for each animal patient is emphasized. Also, a team approach to rehabilitation of the animal patient is highlighted along with specific treatment intervention strategies. A companion monograph covers recognition of the clinical signs of disease in humans and animals that are associated with zoonotic diseases. Implementation of proper infection control and intervention is a focus. Cases studies are provided for each monograph.
Course Overview
Course Format: Online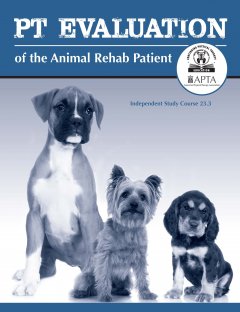 You need to login to purchase this course. If you do not have an account, click on the box below and follow the instructions for creating an account.
Login or Create Account
Pricing
| | Online Only |
| --- | --- |
| AOPT Member | $35 |
| Non-AOPT Member | $50 |
Cancellation Policy
Due to the automation of our learning management system allowing you instant access to the online content and the immediate order placement for a plus print product, there are no refunds after an order is placed.
Course Objectives
Understand the importance of obtaining a veterinary referral and diagnosis prior to assessing and treating the animal patient.
Recognize the importance of a team approach to rehabilitation of the animal patient.
Understand the importance of performing a review of systems and general health assessment prior to physical therapy evaluation or treatment.
Be able to identify conditions that may alter the course of physical therapy treatment, affect the prognosis, or require referral for further veterinary evaluation.
Understand the importance of using clinical reasoning skills to guide the assessment and treatment.
Formulate a thorough plan of assessing the equine patient, formulating a problem list, and initiating a treatment plan based on good clinical reasoning skills.
Understand the definition of zoonoses and their impact in animal rehabilitation.
Recognize the clinical signs associated with the most common zoonotic diseases.
Distinguish among bite and scratch zoonoses, enteric zoonoses, exudate-associated zoonoses, respiratory zoonoses, urogenital zoonoses, and vector-associated zoonoses.
Understand and be able to apply prevention strategies to lessen the risk of acquiring a zoonotic infection.
Topics and Authors
Evaluation of the Canine Rehabilitation Patient
Lisa Bedenbaugh, PT, CCRP, Evelyn Orenbuch, DVM, CAVCA, CCRT
Zoonosis and Animal Rehabilitation
Michael R. Lappin, DVM, PhD, DACVIM