23.2 - Applications of Regenerative Medicine to Orthopaedic Physical Therapy
Note: CEUs are not offered for this course.
Course Description
The field of regenerative medicine is introduced and its impact on physical rehabilitation is elucidated. Specific application is made to nerve, tendon, ligament, disc, muscle, cartilage, and bone. Opportunities, limitations, and barriers are presented in the context of tissue healing, regeneration, and repair. An appreciation for future regenerative technologies is also presented.
Course Overview
Course Format: Online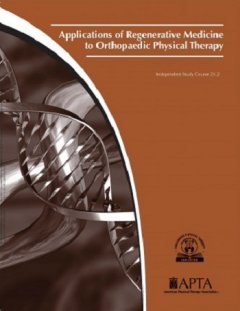 You need to login to purchase this course. If you do not have an account, click on the box below and follow the instructions for creating an account.
Login or Create Account
Pricing
| | Online Only |
| --- | --- |
| AOPT Member | $60 |
| Non-AOPT Member | $75 |
Cancellation Policy
Due to the automation of our learning management system allowing you instant access to the online content and the immediate order placement for a plus print product, there are no refunds after an order is placed.
Course Objectives
Provide a brief history of the field and define the major categories of regenerative medicine.
Describe the importance of regenerative medicine and the impact of current findings for physical therapy practice.
Identify the key steps in the regeneration process for skeletal muscle and peripheral nerve tissues.
Identify and describe how mechanical loading (ie, exercise) can beneficially affect engineered tissues.
Identify specific conditions in which tissue engineering is being researched as a potential treatment intervention.
Identify limitations and barriers of tissue engineering for the neuromusculoskeletal system.
Learn the different phases of healing following an injury and the implications of scar tissue formation on ligament and tendon function.
Introduce current regenerative medicine therapies and tissue engineering strategies.
Understand the types, function, and limitations of stem cells and the implications for tissue repair and regeneration.
Understand what current treatments are available for treating low back pain and be able to discuss their limitations and how biologic treatments might be useful in treating low back pain.
Describe the use and limitations of growth factors in disk regeneration.
Understand how platelet-rich plasma is obtained and how it differs from other growth factor-based therapies.
Understand the difference between gene therapy and growth factor therapy in disk regeneration.
Understand the role of mechanical stimulation in tissue formation and repair following injury.
Become familiar with current regenerative medicine strategies for bone and cartilage regeneration.
Illustrate the steps required to convert external mechanical forces into biochemical signals.
Identify the properties of the musculoskeletal tissue extracellular matrix that contribute to mechanotransduction.
Describe the influence of mechanical signals on progenitor cell differentiation, and on emerging cell-based regenerative therapeutics in musculoskeletal tissue.
Topics and Authors
Introduction to Regenerative Medicine
Fabrisia Ambrosio, PT, PhD; Randy Trumbower, PT, PhD; Steven Wolf, PT, PhD, FAPTA; William Wagner, PhD (Subject Matter Expert: Martin K. Childers, DP, PhD)
Neuromuscular Tissue Engineering
Keith Avin, PT, PhD; Steven Badylak, PhD, DVM; Fabrisia Ambrosio, PT, PhD (Subject Matter Expert: Richard K. Shields, PT, PhD, FAPTA)
Tendon and Ligament Biologics
Kristen M. Stearns, PhD, PT; Fabrisia Ambrosio, PhD, PT; Freddie H. Fu, MD, DSc, DPs (Hon) (Subject Matter Expert: Keith Baar, PhD)
Biologics for Disk Regeneration
Gwendolyn Sowa, MD; Marzena Buzanowska, MD; Tiffany Kadow, MD (Subject Matter Expert: Paul Beattie, PT, PhD, OCS, FAPTA)
Biologics in Cartilage, Bone Repair, & Regeneration
William R. Thompson, DPT, PhD; Ricardo Gottardi, PhD; Kristen M. Stearns, PT, PhD; Fabrisia Ambrosio, PT, PhD; Janet Rubin, MD; Rocky Tuan, PhD
Mechanotransduction as a Tool to Influence Musculoskeletal Tissue Biology
Edward Garay, MD, PhD; Michael Boninger, MD; Gwendolyn Sowa, MD, PhD; Fabrisia Ambrosio, PT, PhD (Subject Matter Expert: Carmen Terzic, MD, PhD)