22.1 - Education and Intervention for Musculoskeletal Injuries: A Biomechanics Approach
Note: CEUs are not offered for this course.
Course Description
This work is a comprehensive series of monographs that addresses the fundamental aspects of designing therapeutic exercise programs. The topics include understanding the plasticity of the musculoskeletal system with special considerations for the postoperative patient, postural influences, application to kinetic chain exercises, and progression exercises for rehabilitation of the lumbar spine.
Course Overview
Course Format: Online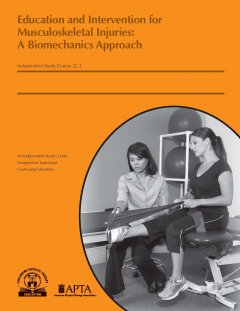 You need to login to purchase this course. If you do not have an account, click on the box below and follow the instructions for creating an account.
Login or Create Account
Pricing
| | Online Only |
| --- | --- |
| AOPT Member | $60 |
| Non-AOPT Member | $75 |
Cancellation Policy
Due to the automation of our learning management system allowing you instant access to the online content and the immediate order placement for a plus print product, there are no refunds after an order is placed.
Course Objectives
Understand biologic components of a healthy musculoskeletal system.
Appreciate the underlying responses of the musculoskeletal system to injury.
Identify biologic processes that accelerate healing of the musculoskeletal system.
Apply principles from exercise physiology, motor control, and biomechanics to the design of a therapeutic exercise program.
Discuss the benefits of a systems approach to therapeutic exercise.
Understand the components of a needs analysis and patient assessment in the prescription of therapeutic exercise.
Define posture and the effects of regional alignment impairments.
Describe postural adaptations that may occur with sport, occupation, and aging.
Develop a treatment strategy to rehabilitate select postural deviations.
Identify the evidence related to the use of therapeutic exercise in the management of patients with low back pain.
Delineate among classification systems used to subgroup patients with lumbar spine disorders in order to determine the most appropriate exercise program.
Develop a clinical reasoning process for patient-specific exercises that enhance motor control of the lumbar spine and reduce low back pain.
Define the dosing parameters for motor-control exercises for the lumbar spine.
Discuss the theoretical basis of how neuromuscular control can enhance dynamic joint stability.
Identify factors that may contribute to neuromuscular control deficits among athletically active individuals.
Understand the importance of early recognition of neuromuscular control factors for preventing injury and restoring function among athletically active individuals with shoulder, knee, and ankle joint impairments.
Design a therapeutic exercise program that integrates the trunk and lumbo-pelvic regions to correct neuromuscular control deficits at the shoulder, knee, and ankle joints.
Identify clinical measurement strategies to screen for dynamic joint instability and neuromuscular control deficits and to measure improvements.
Understand the general postsurgical phases of rehabilitation for select peripheral joint diagnoses.
Define the term "functional exercise progression" and rationalize its utility in rehabilitation.
Design a functional exercise program incorporating range of motion, strength, power, and endurance.
Contrast the difference between open kinetic chain and closed kinetic chain rehabilitation for select pathologies and postoperative conditions.