USF Health School of Physical Therapy and Rehabilitation Sciences' Orthopaedic Residency Program
Learn about this program:
The Mission of the USF Health School of Physical Therapy & Rehabilitation Sciences' (SPT&RS) Orthopaedic Residency Program is to develop reflective, evidenced-based practitioners who are patient-centered, collaborative, interprofessional, caring, ethical, and are able to link movement to patient function.
Program application deadline: 7/15/2022
Program start date: 9/6/2022
Program duration: 13 months
Number of resident/fellow openings per cohort: 2
Tuition cost: $0
Is there a salary or stipend? Yes

If yes, what salary can the resident expect?
0.7 FTE /~$47,659 per year


Are there benefits? Yes

If yes, what are they?
Health, Malpractice insurance; eligible for Dental and Vision Insurance; 16 days paid time off; eligible for retirement


Is there housing assistance? No

Clinical site information:
We have 2 clinical sites - PT Center on the USF Health Campus & Lakeland Regional Health's Grassland Campus - Outpatient Rehab ; 5 clinical faculty

Clinical mentorship information:
4 hours/week

What is a distinguishing feature or selling point of your program?
"Self-directed learning, using the Academy of Orthopaedic Physical Therapy's Residency Curriculum in addition to weekly seminars regarding the current evidence in each of the anatomic regions.
Faculty and/or Resident/Fellow-in-training Spotlight
Spotlighted Faculty:
Name: Mackenzie Garreth, PT, DPT, OCS
Email: mgarreth@usf.edu
Background Education and Experience:
"I graduated from the University of Indianapolis with my Doctorate in Physical Therapy in 2019. After graduating, I moved Tampa, FL to complete an orthopaedic residency at the University of South Florida (USF). I continue to work at USF full time as an orthopaedic physical therapist."
What is your role within the program?
"Residency graduate; residency clinical mentor; 1 year"

What separates this program from others like it?
"As a previous resident, I felt like USF offered each aspect of a residency that I was looking for and more. The variety of mentor perspectives gives you a well rounded mentorship experience. The entire team at USF is committed to continuous learning which has been a positive environment to learn and work in. The residency offered me countless opportunities for teaching, research, service, and collaboration with other professionals; my time and connections formed at USF have continued to help my career thrive post-residency."

Why do you think advanced orthopedic training through residency and fellowship is important?
"Advanced orthopaedic training has allowed me to be more confident in my clinical reasoning and hands on skills as a provider. Residency training also allowed me to develop strong skills of self-reflection so that I can continue to evaluate and strengthen my skills as a physical therapist. I am confident that I can provide expert level care to my patients and have the skill to find and appraise current literature to evolve my practice as time goes on."
Please share a little-known, fun fact that others may be surprised to learn about you.
"I consider myself to be quite the foodie! My fiance and I have an Instagram page to share our food/drink experiences around Tampa Bay."
Spotlighted Resident: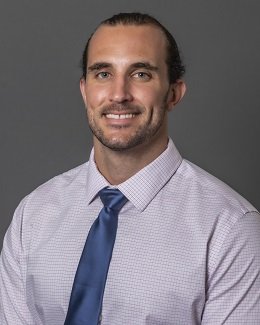 Name: Brandon Beebe, PT, DPT
Email: bjbeebe@usf.edu
Background Education
"I completed my bachelor's degree in Health Sciences at the University of Central Florida. Immediately after graduation, I started physical therapy school at the University of South Florida where I received my Doctor of Physical Therapy degree in 2021."
What type of population are you working with at your program?
"During my residency, I've worked with a large variety of patient populations. I've worked with patients aging from 15 to 90 years old. I've had the opportunity to treat patients of every body region ranging from the foot up to the TMJ. I would say the majority of patients I treat on a daily basis are middle-aged relatively active adults."

Why did you select this program?
"A clinician's first few years after graduation are the most crucial to setting a good practice pattern, so I chose to pursue an orthopedic residency program to help me establish efficient, thorough, and exceptional clinical skills. Also, due to COVID, I did not have an ortho clinical rotation in PT school so I chose to apply for a residency to help guide me in becoming an expert in the setting I was most interested in was "Orthopaedics."

How do you think residency/fellowship will change your career trajectory going forward?
"I think this residency program will exponentially help my physical therapy career moving forward. Starting the residency right out of PT school, it was a gradual transition to treating patients regularly in the clinic. Also, I've had the opportunity to treat a plethora of different diagnoses, shadow orthopedic surgeons and observe surgeries, shadow chiropractors, shadow radiologists, attend weekly orthopedic grand rounds, complete a case report, help teach DPT students, and attend a national physical therapy conference. These experiences helped me become a more skilled, knowledgeable, and well-rounded clinician. I will also be eligible to sit for the OCS exam next March. Attaining an OCS specialization will make me more marketable to future employers."

Please share a little-known, fun fact that others may be surprised to learn about you.
"I used to create electronic music in my free time. I've completed over 20 tracks."