Spotlighted Program: Harris Health System
Learn about this program:
The mission of Harris Health's Orthopedic Physical Therapy Residency Program is to prepare practicing physical therapists with advanced patient management skills for a direct access environment. Graduates will be leaders in neuro-musculoskeletal examination, evaluation, diagnosis and intervention. Our program is designed to not only facilitate therapists who are experts in orthopedic physical therapy, but to also develop future leaders and mentors.
Program application deadline: 12/24/2021
Program start date: 8/29/2022
Program duration: 13 months
Number of resident/fellow openings per cohort: 3
Tuition cost: none.
Contact:
4800 Fournace Place
Bellaire, TX 77401
Main Contact:
Sarah Worth
sarah.worth@harrishealth.org
713-873-4628
Is there a salary or stipend? Yes

If yes, what salary can the resident expect?
76% of full time salary


Are there benefits? Yes

If yes, what are they?
Medical, Dental, Vision, 401k, PTO.


Is there housing assistance? Yes

If so, what kind of assistance?
Relocation Reimbursement


Clinical site information:
The majority of the clinical care occurs at Fournace Place Rehab, with one 10 week rotation to LBJ Outpatient Rehab. Residents also observe at Thomas Street Clinic. All locations are within Harris County, Houston, TX. Residents have access to our 19 clinical faculty members.

Clinical mentorship information:
4 hours per week for a total of 197 direct mentorship hours scheduled.

What is a distinguishing feature or selling point of your program?
"OUR PATIENTS: Harris Health System is the public health care system for Harris County in Houston, TX. We serve a predominantly indigent, low socioeconomic patient population that is either not insured or underinsured. Our patients are medically complex requiring physical therapists to practice at the top of their license in terms of differential diagnosis and primary care. MENTORSHIP: Another stand out of our program is the scheduling of mentorship. Each resident is scheduled with 7-8 different mentorship rotations, allowing the resident to learn from many different mentors with different training backgrounds. OPPORTUNITIES FOR PROFESSIONAL GROWTH: Special opportunities throughout the program include teaching at local universities, conducting their own research capstone project, rounding with orthopedic surgeons and observing surgery, participating in a group wellness program, and many more. Our program values leadership, service to our community and our patients, and passion for our profession."

Is there the ability to work with a specialized population(s)? Yes.

If yes, what populations(s)?
Indigent population of Harris County
Faculty and/or Resident/Fellow-in-training Spotlight
Spotlighted Faculty:

Name: Cory Perrin, PT, DPT, OCS, FAAOMPT
Email: cory.perrin@harrishealth.org
Background Education and Experience:
Texas Woman's University (TWU) PT School graduate, Board Certified in Orthopedics, manual therapy fellowship training through The Manual Therapy Institute, senior physical therapist for Harris Health System, adjunct faculty for Harris Health Neurological Therapy Residency, faculty and module lead for Harris Health Orthopedic Residency, mentor for Harris Health Orthopedic Residency, and guest lecturer for TWU PT School. Previous interim Orthopedic Residency Coordinator and Satellite Clinic manager.
What is your role within the program?
"Faculty, mentor, and lumbar module lead for the Harris Health Orthopedic Residency program: 2015-present."

What separates this program from others like it?
""Outside of the orthopedic training our residents receive, Harris Health develops our residents to become effective and competent clinicians that are able recognize patient primary care needs. Residents at Harris Health have the opportunity to treat a unique patient population that come with various co-morbidities that other programs may not have the opportunity to treat. With the completion of the Harris Health Orthopedic Residency program, our graduates develop the knowledge and skills that are best suited to treat in a direct access setting."

Why do you think advanced orthopedic training through residency and fellowship is important?
"Residency and fellowship provide mentorship that critically challenge a resident's ability to improve practice patterns, expand treatment skills, and address knowledge gaps that otherwise would be very difficult to develop independently without structured guidance."

Please share a little-known, fun fact that others may be surprised to learn about you.
"Physical therapy is my second career, my first career was in aviation."
Spotlighted Resident: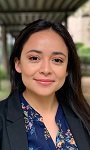 Name: Evelyn Villarreal Laclede
Background Education
"Bachelor in Kinesiology, Doctor of Physical Therapy "
What type of population are you working with at your program?
"Orthopedics."

Why did you select this program?
"I selected the Harris Health Orthopedic Program because of the mentorship opportunities, the patient population, and teaching opportunities. The program offers up to 8 different mentors throughout the year, which will allow me to learn from a variety of experienced clinicians. Purposeful mentorship was something I found to be very valuable after graduation to improve as a clinician. Working with the medically complex patient population at Harris Health System also will help me to improve my direct access skills and patient management. Finally, the program has several planned opportunities for the residents to teach physical therapy students in the local area (Texas Woman's University and University of Texas Medical Branch at Galveston)."

Why did you pursue advanced orthopedic training through residency/fellowship?
"I worked for 1 year at an orthopedic private practice clinic before residency. I realized how much more I needed to learn and improve my clinical skills. While I did have some mentorship from my co-workers at my previous employment, it was not as purposeful or available compared to my current residency program. I also feel that residency was an important next step to learn how to manage complex patients, advance my orthopedic knowledge, and bring my training to patients who have limited resources and access to health care."

How do you think residency/fellowship will change your career trajectory going forward?
"I believe that residency will open opportunities for me to be involved with teaching at the university level. It will also open opportunities for management/director roles in orthopedic clinics. I think it will also open up opportunities to work and apply my skills in public health and addressing health disparities in accessing physical therapy care."

Please share a little-known, fun fact that others may be surprised to learn about you.
"One of my personal goals is to see as many National Parks in my lifetime. I have been to at least 8 different parks. My husband and I want to check off the Alaska parks in 2 years. My current favorite is Canyonlands National Park in Utah."