The Johns Hopkins Hospital & George Washington University Orthopaedic Physical Therapy Residency Program
Learn about this program:
This residency program designed in collaboration with The George Washington University prepares residents to apply for the orthopaedic specialty certification and positions them for advancement along the clinical ladder. Through our 13-month residency program with one-on-one mentoring, residents will advance their ability in examination, evaluation and plan of care development for patients with musculoskeletal-related impairments. The program will challenge residents' clinical reasoning and effectiveness as educators within both a clinical and academic setting.
Program application deadline: 12/31/2022
Program start date: 7/17/2023
Program duration: 13 months
Number of resident/fellow openings per cohort: 5
Tuition cost: None
Program Website
https://www.hopkinsmedicine.org/physical_medicine_rehabilitation/education_training/therapy/physical-therapy/orthopaedic-pt-residency.html
Main Contacts:
Ryan Cummings
rcummi15@jhmi.edu
410-583-2664
Is there a salary or stipend? Yes.
Are there benefits? Yes. PTO, Healthcare, and Retirement Contribution
Is there housing assistance? No

Clinical site information:
Currently have 6 clinical site placements located across the Greater Baltimore area - Lutherville, Timonium, White Marsh, Baltimore City, Odenton, and Columbia with 15 Clinical Faculty.

Clinical mentorship information:
Minimum 4 hours of mentorship per week.

What is a distinguishing feature or selling point of your program?
Our collaboration with George Washington University allows our residents the opportunity to hold roles as Adjunct Faculty within their DPT program where they work with students in the Fall and Spring Semesters assisting with didactic and lab instruction. Residents will also have the opportunity to receive mentorship from a wide array of clinical faculty that are either Board Certified or Fellowship trained.

Is there the ability to work with a specialized population(s)?
Yes. There is the ability to shadow both pediatrics, sports, oncology, and performing arts populations throughout the 13 month program.
Faculty and/or Resident/Fellow-in-training Spotlight
Spotlighted Faculty: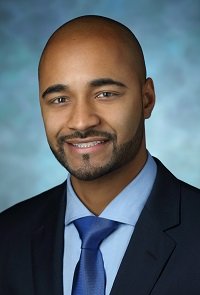 Name: Eric Mahabir, PT, DPT, OCS

Background Education and Experience:
Eric Mahabir is a past residency graduate and the current Residency Program Coordinator. He is board certified in orthopaedics and completed his DPT at the University at Buffalo.

What is your role within the program?
"Primary Mentor since 2020 and Program Coordinator since 2022"

What separates this program from others like it?
"Johns Hopkins Orthopaedic Residency offers a vast number of experienced mentors throughout the residency program, the numerous opportunities available through the Hopkins network and the partnership with George Washington University allows residents to involvement in their musculoskeletal course series and labs."

Why do you think advanced orthopedic training through residency and fellowship is important?
"Advanced orthopaedic training through a residency is important as it allows for residents to focus on improving their clinical reasoning and pattern recognition. I believe the ability to focus on these two areas allows to greater patient outcomes sooner."

Please share a little-known, fun fact that others may be surprised to learn about you.
"I'm a really good cook. I believe I can compete on those home cooking competition shows if I had the opportunity."
Spotlighted Resident: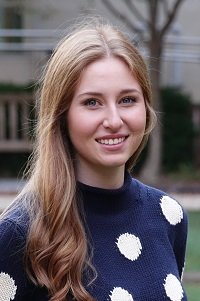 Name: Sydney Rogers, PT, DPT

Background Education
University of Maryland, Baltimore, School of Medicine
What type of population are you working with at your program?
"General orthopaedics."

Why did you select this program?
"I chose Johns Hopkins for my orthopedic residency because of the opportunities to receive mentorship in both a clinic and classroom setting. Having the opportunity to treat patients and teach DPT level students at George Washington University is a unique addition to an orthopedic physical therapy residency and one I felt drawn to. Johns Hopkins emphasis on patient centered care, mentorship and professional development is inspiring and I knew it would set me up for success throughout my career."

Why did you pursue advanced orthopedic training through residency/fellowship?
"I chose to pursue advanced orthopedic training through a residency program for many reasons. It is hard to narrow down the reasons why, but if I have to, I think the following three reasons were the biggest driving factors behind pursuing residency. I knew that doing a residency would challenge my clinical decision making and mold me into a clinician who is able to pull upon research and experience to better treat my patients. I was also drawn to a residency because I knew it would provide me with the higher-level thinking, and challenging mentorship I craved as a new grad. In the past few months I have already learned more than I could have imagined and am excited to see what the next ten months hold. Lastly, participating in a residency sets me up for future success if I choose to pursue fellowship for further specialized training."

How do you think residency/fellowship will change your career trajectory going forward?
"Residency has already changed my career trajectory in the 3 short months I have been a part of it. I have learned a lot about myself and refined the goals I had set to achieve in the future as a clinician. I have had the opportunity to mentor and teach current DPT students at GWU. This opportunity, although unique to my residency program, has really opened my eyes that teaching/mentoring is something I am passionate about and will be a mainstay in my career as a physical therapist. Additionally, by pursuing residency training, I am set up for success if I choose to do a fellowship in manual therapy. Having the one on one mentorship for both patient care and hands on skills by residency and fellowship trained OCS and FAAOMPT therapist has opened my eyes to pursuing further training after residency. Residency allows me to fast track this plan."

Please share a little-known, fun fact that others may be surprised to learn about you.
"Rare to our field, I have never suffered an injury that required me to receive physical therapy. I was introduced to the world of physical therapy through my grandfather after he was diagnosed with Parkinson's. I realized that physical therapy was exactly the profession I was looking for in the medical field. I knew I would be able to have a positive impact on patients lives by helping them achieve their movement goals."