Meet Dr. Monique DeLuca, PT, DPT, OCS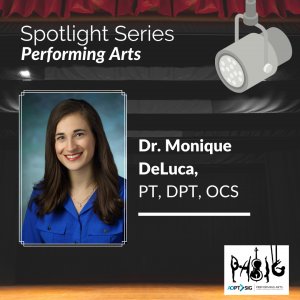 Dr. Monique DeLuca, PT, DPT, OCS
The PASIG would like to spotlight Dr. Monique DeLuca, PT, DPT, OCS, currently completing a Performing Arts Fellowship at Johns Hopkins in Maryland.
"Through the Performing Arts Fellowship I treat all types of performing artists, including dancers, musicians, vocalists, figure skaters, actors, and gymnasts ranging in age from adolescents to adults. A large portion of my caseload includes collegiate level dancers and musicians due to Johns Hopkins Rehabilitation partnership and on-site clinic at The Peabody Conservatory of Johns Hopkins University.
As part of the fellowship, I have completed various performing arts specific, post-professional, didactic courses under the direction of Andrea Lasner including all The Harkness Center's online dance curriculum, the Essentials of Performing Arts Medicine Certification through the Performing Arts Medical Association (PAMA) and the American College of Sports Medicine, and dance modules from Andrea Zujko's Dance Medicine Education Initiative. Additionally, I have attended various conferences through organizations such as the International Association of Dance Medicine (IADMS) and the American Physical Therapy Association. These courses have allowed me to continue to grow as a performing arts specialist and have identified areas within the performing arts realm that need further attention and on-going research.
Some performing arts related research projects I have been involved with include retrospective analyses of results from previous dance and music screens, effects of blood flow restriction training for dancers, and unique dancer case studies. Additionally, I have participated in various outreach programs including musician and dancer wellness screens, backstage care, pre-pointe ballet assessments, and various wellness lectures with focus on injury prevention and promoting peak performance.
I received both my Bachelor of Science in Clinical Health Studies with two minors in Dance & Health and my Doctorate of Physical Therapy from Ithaca College—GO BOMBERS! While in school, I was a member of multiple on-campus dance companies and taught introductory dance classes at a local dance conservatory. Upon graduating, I completed an external physical therapy Orthopedic Residency through Cayuga Medical Center and became a Board Certified Orthopaedic Clinical Specialist (OCS).
With nearly six years in PT practice, I feel fortunate that my dream of being a performing arts specialist continues to evolve. I have danced for nearly 20 years in various styles including ballet/pointe, tap, jazz, lyrical, modern, and contemporary. I have also sang and played flute and electric bass guitar throughout high school in school-based chorus, band ensembles, and marching band. Additionally, I have performed in community bands and choruses through the New York State Music Association. As a former performing artist, it is my passion to combine my orthopaedic knowledge and clinical skills together with my performing arts experience to deliver optimal care and provide performing artists with the tools necessary for a healthy and prosperous career. I joined the Performing Arts SIG (PASIG) to meet other professionals who share my love and interest for the performing arts world. Through the PASIG, I hope not only to continue to learn and grow as a clinician in order to best serve this unique population, but also to share the knowledge that I have gained throughout my career with others. I view the PASIG as a family who supports one another and works together to advance performing arts practice across the nation.
FUN FACT: Aside from my love for performing arts, I also adore dogs and recently added my first fur baby, Didi, a miniature Aussiedoodle, to my family!"