Meet Dr. Marisa Giangrasso Hentis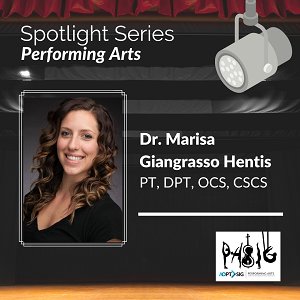 Dr. Marisa Giangrasso Hentis, PT, DPT, OCS, CSCS
The Performing Arts Special Interest Group (PASIG) would like to spotlight Dr. Marisa Giangrasso Hentis, PT, DPT, OCS, CSCS
I am a clinical faculty member at the University of Southern California in Los Angeles, CA, in the Division of Biokinesiology and Physical Therapy and a faculty member at the USC Glorya Kaufman School of Dance. I split my time between treating the BFA dance and musical theatre program students, and the general population. I am a Board Certified Orthopaedic Clinical Specialist (OCS) and Certified Strength and Conditioning Specialist (CSCS). I began specializing in pelvic floor dysfunction where I treat female identifying, male identifying, transgender individuals, as well as children (after receiving my CAPP-Pelvic certification from the APTA). I am currently teaching Conditioning for Dance and Dance Science for the undergraduate BFA dance majors and minors, and various Immersions and Labs throughout the DPT program. I also act as the liaison to the Dance Medicine Team which includes faculty from medicine, Physicians, Psychology, Dietetics, Occupational Therapy, and the Kaufman School of Dance Faculty. I also treat backstage at various theaters in the Los Angeles area for musical theater, plays, and other performances. Lastly, I am involved in research for dancers to improve screening techniques for professional level and collegiate dancers and assist with research in the circus arts to determine epidemiology and common injuries for circus performers.
I have been practicing for 7 years in outpatient physical therapy clinics and graduated from Saint Louis University in Saint Louis, MO with my Doctorate of Physical Therapy. Following graduation, I completed a clinical residency in orthopaedic physical therapy from MGH Institute of Health Professions in Boston, MA.
I have been dancing my entire life in various genres. I grew up completing ballet, jazz, hip-hop, modern dance, tap, and musical theater. I joined a professional dance company specializing in contemporary, hip-hop, and jazz for 5 years during my undergraduate and graduate school years. I also was head high school varsity coach for a local high school dance program for 3 years during my graduate school years.
I had always known that I wanted my two passions of physical therapy and dance to intersect and to help the performing arts world prevent injury and return to the stage sooner. I sought out various clinicals and opportunities to combine my passions. Through my residency training, I learned how to better treat dancers and different ways on how to get involved with the performing arts world. My mentor exposed me to the world of circus arts and how underrepresented it was in the world of performing arts. I began helping with research opportunities in circus arts and loved how diverse the art form was. I recently started taking circus lessons to better understand how circus artists move and the immense strength needed to perform on different apparatuses. I also joined the leadership of the PASIG as a way to network with other performing arts therapists! I enjoy helping move our profession forward and advocate for all performers to increase access to healthcare, to rehabilitate, and prevent injuries in order to keep them performing as long as possible!
Fun Fact: I recently learned how to play golf with my husband to spend more time outdoors and learn a new sport! Golf courses are open the majority of the year in Southern California and it is a great way to exercise and work different muscles! It turns out I am not as coordinated on the golf course as I am in the dance studio!