Meet Dr. Gina Minchella, PT, DPT, OCS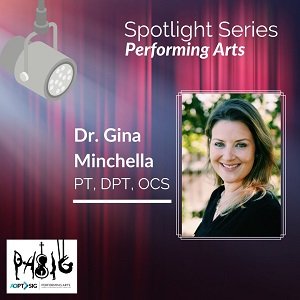 Dr. Gina Minchella, PT, DPT, OCS
The Performing Arts Special Interest Group (PASIG) would like to spotlight Dr. Gina Minchella PT, DPT, OCS.
I work as an Orthopaedic Clinical Specialist and currently practice in Los Angeles. I own my practice, Minchella Physical Therapy, which has two divisions. The first division provides on-location physical therapy for TV and live touring productions. I primarily work with Dancing with the Stars-both with their live show as well as their nation-wide tours- treating the professional dancers and celebrity contestants. I have also provided physical therapy for other productions over the last several years where I treated professional dancers (to name a few): Derek and Julianne Hough, Maks and Val Chmerkovskiy, as well as professional musicians like Depeche Mode, and R5. The second part of my practice is my private outpatient orthopedic clinic in Hermosa Beach.
PT School: I graduated from the University of Southern California in 2004.
I have been practicing for over 16 years! That seems strange to me, since it feels like no time has gone by at all!
Since I work primarily with performing artists, I have found that the PASIG provides a fantastic source of fellow PTs who can provide feedback, referrals, and resources for the typical issues that come up in our specific patient population and niche practice. I have met so many incredible colleagues through the PASIG and I love being able to support and be supported by all of the talented therapists within this specialty.
Fun fact: I occasionally work with the Los Angeles Kings as an adjunct PT and the first two years I worked with them, they won the Stanley Cup! So I got to meet the cup- twice! Needless to say, I became a true hockey fan after that- GO KINGS GO!