Meet Dr. Duane Scotti, DPT, PhD, OCS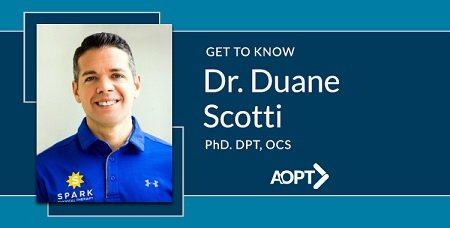 Dr. Duane Scotti, PhD, DPT, OCS
PASIG would like to spotlight Dr. Duane Scotti, PhD, DPT, OCS faculty member at Quinnipiac PT School and physical therapy practice owner at SPARK Physical Therapy in Hamden, Connecticut.
Dr. Scotti has been practicing for over 18 years in the orthopedic realm after graduating from Quinnipiac University in Connecticut. Dr. Scotti joined the PASIG in order to better serve his dancers and gymnasts as part of his niche areas of practice and research. His interests include screening and injury prevention for competitive dancers and gymnasts.
Dr. Scotti has been a dancer since age 4, took a 10-year hiatus after college, however he returned to the dancing world to teach partnering at his local dance studio. In fact, Dr. Scotti loved dancing so much while growing up, especially tap dance, that he idolized Savion Glover and Gregory Hines and HAD to own no less than 3 pairs of Gregory Hines's tap shoes! Dr. Scotti also met his wife when they were assigned as dancer partners at a dance studio in Long Island, NY. He even proposed to his wife at the Shubert Theatre in New Haven, CT during a dress rehearsal for The Nutcracker in which they were both performing in!!!