SINGLE MONOGRAPH SALE
25.3.5, Orthopaedic Management of the Patient with Obesity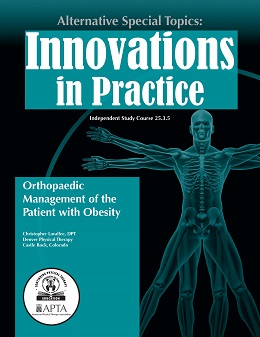 Abstract:

CONTENT: This monograph will address the current evidence, practical considerations, and future directions of innovative approaches for telehealth and virtual reality applications in musculoskeletal practice in physical therapy. The overall purpose of this monograph is to inform musculoskeletal physical therapy practitioners on advances in telehealth and virtual reality innovations that may enhance clinical practice in the digital age. Three cases are presented at the end of this monograph. The first case describes a 65-year-old man who has undergone a knee arthroplasty and desires to travel during his rehabilitation. Specific telehealth practice needs and considerations for this patient are highlighted. The second case involves a 10-year-old female from Mexico previously diagnosed as having infant cerebral paralysis spastic dystrophy. A telehealth consultation visit with a physical therapist pediatric certified specialist from the United States is described. The third case is a 25-year-old woman with status post left grade 2 talofibular ankle sprain who desires to add the Wii Fit and Kinect gaming systems to her plan of care.
Authors:

Christopher Lavallee, PT, DPT
Learning Objectives:
Upon completion of this monograph, the course participant will be able to:
Discuss the etiology and prevalence of obesity and list disease risks associated with increasing body mass index.
Discuss the impact of obesity on gait and make recommendations for weight-bearing activities in obese patients as necessary.
Identify the special populations of patients who are overweight and obese and whose genetic, cultural, educational, or age-related characteristics may influence considerations made when determining the plan of care.
Describe the association between increasing weight and pain conditions (ie, low back pain, osteoarthritis) and their relationship to decreasing quality of life.
Identify the joints that are most likely to exhibit biomechanical changes related to obesity and discuss potential barriers to successful treatment.
Identify the 5 common musculoskeletal disorders that occur secondary to obesity and the appropriate mode, intensity, and duration of exercise related to the specific condition.
Explain the modifications that should be made to approaches when treating patients who are obese.
Pricing:
Registrant
Price (USD):
Printed Copy Only
Shipping
Academy of Orthopaedic Physical Therapy Member

$35

$5
Non-Academy Member

$50

$5
---
NO PRODUCT EXISTS FOR ISC 25.35