SINGLE MONOGRAPH SALE
25.3.4, Evaluation and Treatment of the Patient with
Low Bone Mass and Osteoporosis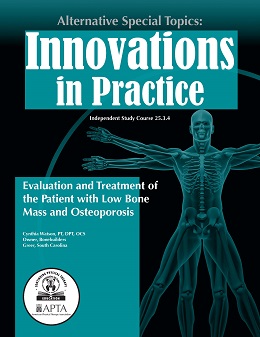 Abstract:

CONTENT: How to effectively manage patients with osteoporosis is the primary focus of this monograph. The inclusion of various tools in terms of functional measures, online resources, and informative tables makes this a complete and informative read. The monograph first presents an overview of osteoporosis by providing a formal definition and delineating osteoporosis from osteopenia. Detection methods such as DXA scan, bone mineral density testing, and plain film radiography are then reviewed. Coverage of epidemiology of osteoporosis aids the reader in gaining perspective on the prevalence and incidence of osteoporosis and its impact on the health care system. The next section covers risk factors for osteoporosis and fractures risk with an accompanying discussion of the FRAX World Health Organization Fracture Risk Assessment Tool. Bone physiology is reviewed in detail. Subtopics include bone changes with aging, exercise effects, the role of calcium and vitamin D, and commonly used pharmacologic agents. Two well-written sections on examination and evaluation will guide the reader through these procedures by highlighting history and specific evaluation tools that can be used. Physical therapy interventions cover the role of weight bearing and strength training, safe postures, individualized exercise programming, balance exercise, and fall prevention home safety. CASE ANALYSES: Two cases are organized and detailed from the beginning evaluation to formulation of a treatment plan. The first case describes a 55-year-old Caucasian woman who was self-referred to physical therapy with primary postmenopausal osteoporosis. The second case describes a 90-year-old woman, referred to physical therapy two weeks after falling and suffering a contusion and experiencing an exacerbation of osteoarthritis.
Authors:

Cynthia Watson, PT, DPT
Learning Objectives:
Upon completion of this monograph, the course participant will be able to:
Identify the most common locations of low force fractures due to osteoporosis and the morbidity and mortality associated with those fractures.
List the modifiable and non-modifiable risk factors associated with developing osteoporosis.
Define a T-score and differentiate between the definitions of "normal," "osteopenia," and "osteoporosis" based on that score.
Identify self-report measures and clinical tests that may be used in this population to ascertain fall risk, general upper extremity, and lower extremity functional strength.
Define excessive thoracic kyphosis and identify how it may be measured clinically.
Recognize the most common risk factors associated with falls in the elderly.
Recognize how the World Health Organization FRAX calculator is useful in determining whether or not medication is indicated to improve an individual's bone health.
List the National Osteoporosis Foundation's recommended daily allowance of calcium and vitamin D to augment the benefits of exercise.
Define Wolff's Law and how this relates to prescribing exercise in the patient with decreased bone density including intensity, mode, duration, and frequency.
Recommend weight-bearing exercises that are beneficial to the patient with decreased bone density including intensity, mode, duration, and frequency.
Prescribe and adjust an appropriate exercise program for the patient with osteoporosis based on the physiological process associated with bone metabolism.
Select balance exercises that may be used to reduce fall risk in this population.
Name the forces associated with osteoporotic fractures of the vertebral bodies and how exercises and activities of daily living may be modified to reduce those forces.
State home safety modifications that may be useful in reducing falls.
Compare and contrast the exercise program designed to treat osteoporosis in a middle-aged female versus a frail elderly female with excessive thoracic kyphosis.
Pricing:
Registrant
Price (USD):
Printed Copy Only
Shipping
Academy of Orthopaedic Physical Therapy Member

$35

$5
Non-Academy Member

$50

$5
---
NO PRODUCT EXISTS FOR ISC 25.34