SINGLE MONOGRAPH SALE
25.3.2, Advances in Anterior Cruciate Ligament
Surgery and Rehabilitation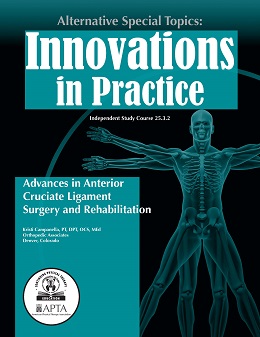 Abstract:

CONTENT: The monograph provides a strong foundation of knowledge in understanding the current evidence regarding prevention, evaluation, and management of ACL injury. In the monograph, Dr Campanella provides a much needed comprehensive review of the current state of ACL prevention injury and treatment. A detailed review regarding ACL anatomy and biomechanics provides a nice introduction to understanding ACL injury. Mechanisms of injury are discussed in detail including the effect of gender on injury. The diagnosis of an ACL tear and confirming clinical tests are then reviewed. Surgical methods to restore the ACL are covered along with possible complications following repair of the ACL. A separate section on ACL injury for the pre-adolescent and adolescent age groups is included. Postsurgical protocols and factors to consider when choosing a rehabilitation approach are deliberated by the author along with specific functional therapeutic exercise recommendations. Bracing, return to sport, and outcome measures are also covered. CASE ANALYSES: Two case studies integrate the concepts covered in the monograph. The first is 35-year-old female who sustained an ACL tear of her left knee when she was tackled while playing in an all-female football league. The second case describes a 57-year-old female who suffered an ACL tear from a fall but was unable to pursue surgery until a few years later due to extenuating circumstances.
Authors:

Kristi Campanella, PT, DPT, OCS, MEd, CPI
Learning Objectives:
Upon completion of this monograph, the course participant will be able to:
Describe how conservative and surgical management of anterior cruciate ligament injury impacts both short- and long-term outcomes.
Describe potential gender differences as it pertains to the incidence of anterior cruciate injuries.
Understand the relevant anatomy and biomechanics of the anterior cruciate ligament injury and the mechanism of injury.
Understand and describe the current theories related to the mechanism of injury.
Describe and perform clinical tests for diagnosing anterior cruciate ligament injury tears.
Describe and select proper imaging for diagnosis of anterior cruciate ligament injury tear.
Describe the most current surgical procedures being performed and how they may impact recovery and rehabilitation.
Describe surgical and rehabilitation considerations for adolescents undergoing anterior cruciate ligament injury reconstruction.
Demonstrate appropriate use of an anterior cruciate ligament injury prevention program and describe all the components and associated risk factors.
Use predictors of anterior cruciate ligament injury tears and proper testing for risk to develop appropriate injury prevention programs.
Describe and appropriately use the most commonly used protocols for anterior cruciate ligament injury rehabilitation and which factors to consider when choosing appropriate protocols.
Describe how tissue healing, graft incorporation, and graft protection relate to rehabilitation guidelines.
Describe postsurgical complications and the appropriate management postsurgery.
Use the current evidence regarding bracing after anterior cruciate ligament injury reconstruction.
Use common outcome measures for anterior cruciate ligament injury patients.
Describe common tests used for return to sport and appropriate timing for testing.
Pricing:
Registrant
Price (USD):
Printed Copy Only
Shipping
Academy of Orthopaedic Physical Therapy Member

$35

$5
Non-Academy Member

$50

$5
---
NO PRODUCT EXISTS FOR ISC 25.32