24.1 - The Injured Worker
Note: CEUs are not offered for this course.
Course Description
This course covers topics related to the roles, responsibilities, and opportunities for the physical therapist in providing services to industry. Wellness, injury prevention, post-employment screening, functional capacity evaluation, and legal considerations are covered by experienced authors working in industry. Current information is also related to how the Affordable Care Act impacts physical therapy services.
Course Overview
Course Format: Online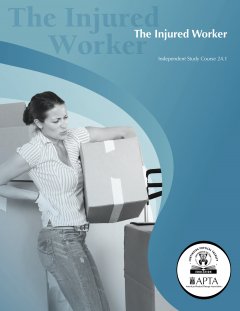 You need to login to purchase this course. If you do not have an account, click on the box below and follow the instructions for creating an account.
Login or Create Account
Pricing
| | Online Only |
| --- | --- |
| AOPT Member | $60 |
| Non-AOPT Member | $75 |
Cancellation Policy
Due to the automation of our learning management system allowing you instant access to the online content and the immediate order placement for a plus print product, there are no refunds after an order is placed.
Course Objectives
Understand the value and applications of obtaining job-related information in injury prevention and injury management programs.
Discuss the difference between essential and marginal job functions and be able to describe the process to identify each.
Discuss the importance of gap analysis and job matching for client evaluation, goal setting, and interventions.
Be able to distinguish between a physical agility screening and a medical exam under the Americans with Disabilities Act for purposes of identifying the legal standards for post-offer screenings.
Identify the legal limits of testing measures that can be in an employer required medical exam of incumbent injured workers under the Americans with Disabilities Act.
Understand how the Genetics Information Non-Disclosure Act and the new wellness rules promulgated under the Affordable Care Act might impact consultative services and on-site PT services.
Understand HIPAA disclosure issues that are common and sometimes unique in workers compensation cases.
Understand the importance of knowing the state workers' compensation statutes and rules that apply how the variability from state to state might affect PT services.
Understand indirect and direct cost drivers associated with workplace health, wellness, and safety.
Understand popular models of successful workplace wellness programs and the three tiers of injury prevention.
Differentiate between employer and employee responsibilities in the return-to-work process.
Understand how the interaction of health care providers with injured workers affects an employer's OSHA reporting requirements.
Understand the implications of the Americans with Disabilities Act, the Americans with Disabilities Amendment Act, and legal precedents on return-to-work, pre-employment, and functional testing.
Understand the roles and responsibilities of the physical therapist as a consultant to the workplace for preventing work-related musculoskeletal disorders.
Analyze the workplace OSHA 300 injury record and describe its data implications.
Identify the key components of a worker injury prevention program.
Describe key components of the physical demands portion of a job description and how they differ from job-specific tasks.
Understand the process and reporting of an on-the-job injury claim.
Identify common ergonomic tools and processes for measuring job risk.
Topics and Authors
Work Injury Prevention & Management: Determining Physical Job Demands
Deidre Daley, PT, DPT, MSHPE; Jill Galper, PT, Med; Margot Miller, PT
Work Injury Prevention & Management: Legal and Regulatory Considerations
Gwen Simons, Esq, PT, OCS, FAAOMPT
Work Injury Prevention and Management: The Role of the Physical Therapist in Injury Reduction/Prevention and Workforce Wellness
Michael T. Eisenhart, PT
Work Injury Prevention and Management: Injury Management Considering Employment Goals
Cory Blickenstaff, PT, MS, OCS
Work Injury Prevention & Management: Ergonomics
Lauren Hebert, PT, DPT, OCS
Work Injury Prevention, Management Coordination, and Communication
Douglas P. Flint, DPT, OCS