UCSF Orthopedic Physical Therapy Residency Program
Learn about this program:
The mission of the UCSF Orthopedic Physical Therapy Residency Program is to provide a comprehensive orthopedic curriculum including mentoring and teaching experiences to facilitate the advanced clinical development of physical therapists who will provide exceptional evidence-based and patient-centered physical therapy services, and become future educators of the next generation of physical therapists. The UCSF Orthopedic Physical Therapy Residency Program is committed to training and supporting physical therapists from all backgrounds, including traditionally underrepresented groups, to enhance the diversity of our residency training programs and to meet the needs of the diverse, multi-ethnic populations we serve.
Program application deadline: 2/15/2023
Program start date: 9/1/2023
Program duration: 12 months
Number of resident/fellow openings per cohort: 4
Tuition cost: $2,500.00 with scholarship available
Program Website
Main Contact
Alison Scheid
alison.scheid@ucsf.edu
(415) 514-6774
Is there a salary or stipend? Yes
Are there benefits? Yes

Health, dental, vision, life and disability insurance
20 days of PTO (3 scheduled breaks and 3 discretionary days)
$500 continuing education monies
$800 towards OCS exam upon completion of program
Discounted or compensated access to UCSF continuing education courses (NOT already included in curriculum)
$300 per month meal card for campus restaurant and cafeteria
FREE campus shuttle service in SF

Is there housing assistance? Yes

Eligibility for UCSF on-campus housing


Clinical site information:

One clinical site in Mission Bay, San Francisco, CA
18 clinical faculty with 21 TOTAL Faculty

Clinical mentorship information:
What is a distinguishing feature or selling point of your program?

Enhance skills as Orthopedic Clinical Specialist AND clinical educators
Role as lab instructor in DPT courses
Feedback from students and course directors
Specific courses in Residency curriculum to enhance teaching
Serve as Clinical Instructor for integrated clinical experiences
Access to UCSF offerings for clinical educators
"Choose Your Own Adventure" options with Research, sports emphasis, or additional teaching opportunities

Collaboration with Sports PT Residency at UCSF Benioff Children's Hospital
Case Report or QI Project option

Interprofesionals Collaboration

Interprofessionals Clinics and Round
Option to view orthopedic surgery

Tuition scholarship opportunities


Is there the ability to work with a specialized population(s)?
Yes. Limb Loss/Amputation

Faculty and/or Resident/Fellow-in-training Spotlight
Spotlighted Faculty:
Name: Cathy Hoang PT, DPT, OCS, FAAOMPT
cathy.hoang@ucsf.edu

Background Education and Experience:
"I have over 15 years of experience as an orthopedic physical therapist. I completed an orthopedic physical therapy residency program as well as a manual therapy fellowship. I also did a movement science fellowship. "
What is your role within the program?
"Program Faculty and Mentor - 5 years"
"Program Coordinator - 4 years"

What separates this program from others like it?
"We have the opportunities to teach in an amazing DPT Program at UCSF/SFSU, we have tracks that allow our residents to choose to spend more hours either in teaching, sports courses or research. Being part of a large institution provides many additional resources and the ability to interact with other professionals in orthopedics and sports medicine."

Why do you think advanced orthopedic training through residency and fellowship is important?
"All the amazing experience you get out of the program: even if you do not want to teach in the future, you learn so much by teaching others; great experience from the research project; getting to be mentored from clinicians with various backgrounds."

Please share a little-known, fun fact that others may be surprised to learn about you.
"I am a trained bounty hunter- it is not quite like what you see in the movies!"
Spotlighted Fellow-in-training :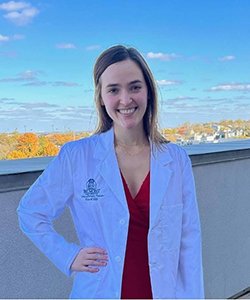 Name: Marissa Arnerich PT, DPT
marissa.arnerich@ucsf.edu

Background Education
BA in Kinesiology and Spanish from Saint Mary's College of California; DPT from Belmont University
What type of population are you working with at your program?
"General orthopedics"

Why did you select this program?
"I picked this program as I liked the teaching component and thought it would be a great experience to work for a large hospital-based program. I was also really impressed by the interview."

Why did you pursue advanced orthopedic training through residency/fellowship?
"I felt like I would benefit from continued structured mentorship and I wanted to become a better PT than just entry-level."

How do you think residency/fellowship will change your career trajectory going forward?
"For me, I am hoping it will help build confidence in myself and my skills as a therapist so I can feel well prepared to take on patients in the future and provide the best care I can."

Please share a little-known, fun fact that others may be surprised to learn about you.
"I have lived in three different countries now for an extended period of time outside the USA."