Meet Dr. Tessa Kasmar, PT, DPT, OCS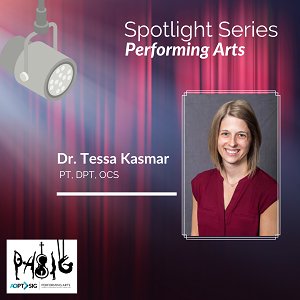 Dr. Tessa Kasmar, PT, DPT, OCS
The PASIG would like to spotlight Dr. Tessa Kasmar, PT, DPT, OCS, who also completed a Performing Arts Physical Therapy Fellowship.
I work at The Ohio State in Columbus, Ohio primarily with performing artists in a clinical setting, including dancers, figure skaters, and musicians. I also have the opportunity to perform injury checks and provide backstage coverage for our collegiate and professional dance affiliations. I am currently a faculty member for OSU's Performing Arts Fellowship and Orthopaedic Residency programs.
I graduated from Marquette University in Milwaukee, WI and have been practicing for over 4 years.
I grew up as a pre-professional ballet dancer and my experiences being injured were my initial spark for the physical therapy profession. Although my personal experience as a musician and figure skater were far less extensive, I have enjoyed revisiting these specialty areas as a PT. Being a member of the PASIG has helped to grow my knowledge in these areas and connect with other PTs with similar interests nationwide.
Completing the Performing Arts Fellowship has led to me presenting at APTA's NEXT Conference as well as the opportunity to be a member of our fellowship faculty. I've really enjoyed presenting didactic material and being a mentor for our fellow-in-training – teaching is something that I have really grown to love! One on my favorite parts is educating different performing arts groups on injury prevention, self-care, basic nutrition, anatomy and biomechanics, and strength and conditioning topics. The foot/ankle is my favorite region to work with, and I also recently completed my training for custom orthotics! I still dance, mostly ballet and modern, but currently on hold due to closures (Covid).
FUN FACT: I love scary movies and making donuts (and other baked goods)! I also have an orange cat named Gus.