Meet Dr. Emily Scherb, PT, DPT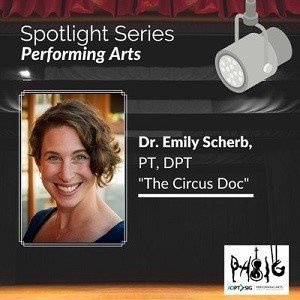 Dr. Emily Scherb, PT, DPT
The Performing Arts Special Interest Group (PASIG) would like to spotlight Dr. Emily Scherb, PT, DPT, also known as The Circus Doc! @TheCircusDoc on IG/Facebook/Twitter
Emily is based in Seattle, WA, where she has her own practice, Pure Motion Physical Therapy. There she focuses on primarily circus artists from the professional to the recreational and movers of all kinds from dancers to parkour athletes, climbers, and weekend warriors. She also teaches continuing education online and in-person through The Circus Doc. Through her courses at The Circus Doc, she helps clinicians understand the stresses and strains on circus bodies and helps circus instructors increase their knowledge of how the body works so they can teach and train circus artists safely. Recently, Dr. Scherb has created new online courses for clinicians--keeping her focused during the pandemic.
Over 10 years ago, Dr. Scherb graduated from Washington University in St. Louis and was awarded the Alumni Achievement Award in 2020.
Dr. Scherb realized at the age of 11 that performing for applause was way more fun than getting a score at a gymnastics meet and she dove into learning circus skills. Dr. Scherb says, "I have loved being in the air ever since!" Being a circus performer, led her to take time between high school and college and then again between undergrad and grad school to pursue further circus performing and teaching. During college, Dr. Scherb stayed engaged in the performing arts world by becoming a dance minor and spending as much time under stage lights as possible.
Through working with artists around the country and over the last few decades, Dr. Scherb has watched circus arts grow exponentially, especially as a recreational activity. With that growth she has also seen the industry struggle to figure out new and safe teaching methods, which was the inspiration to write her book, Applied Anatomy of Aerial Arts. She is excited to bring researchers in the field together through collaboration and events like the American Circus Educators (ACE) conference, focusing on knowledge sharing with other clinicians (PASIG), and to the circus community, itself. Through Dr. Scherb's work, her book, her workshops, and her ongoing courses, she is able to remain a large part of the current movement to improve artists' performance while giving back, in the form of learning tools to stay healthy and strong.
FUN FACTS:
I was a madrigal singer in high school.
I just got my first puppy!
I love to cook and find it relaxing. Yes, I made sourdough during the pandemic.
I have taught flying trapeze in 5 countries and 9 states (and always looking to add more)!!
I hung upside down from a hot air balloon over Bryant Park in NYC.