Meet Dr. Kristen Hope Schuyten, PT, DPT, MS, SCS, CSCS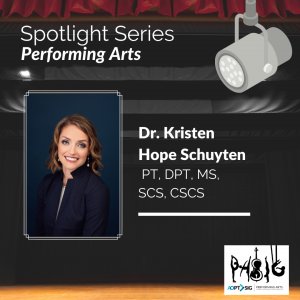 Dr. Kristen Hope Schuyten, PT, DPT, MS, SCS, CSCS
The Performing Arts Special Interest Group (PASIG) would like to spotlight Dr. Kristen Hope Schuyten, PT, DPT, MS, SCS, CSCS.
I work as a Physical Therapy Clinical Specialist and Performing Arts Rehabilitation Coordinator for MedSport at Michigan Medicine. My caseload is primarily dancers, skaters, instrumentalists, gymnasts, and other performing arts specialties ranging in the ages of pediatric to young adult-but I do have some professionals and faculty!
At MedSport, I have developed Performing Arts competencies and educational programming. These competencies focus on injury prevention and wellness and target other clinicians; dance educators at studios, and figure skating professionals at ice rinks. I received my Board Certification in Sports (SCS) and have been able to use that along with the Emergency Medical Response (EMR) certification to cover ice skating and dance competitions and performances, offering both on-ice and backstage treatment services. With my SCS and performing arts background, I have been able to serve as a Chief Medical Officer for Regional and National Championship skating events throughout Michigan. I am also on the Sports Medicine Committee with US Figure Skating and serve as an anchor for the STARS (Standardized Testing of Athleticism to Recognize Skaters) Combines in Michigan. Prior to Covid-19, I was traveling with Team USA figure skating all over the world-including the 2018 Olympics, the 2019 World Championships, and the 2020 Four Continents Championships.
Lastly, at the University of Michigan, I am an adjunct faculty with the School of Music, Theatre, and Dance where I teach Anatomy and Physiology for Dancers every fall. I also help cover the Performing Arts Triage Clinic (now virtual) and carry out the annual Injury Risk Screening for all incoming freshmen performing arts students. Both of these projects have been ongoing for over a decade! I feel very fortunate to have support on the medical and academic sides at the University of Michigan for further development with these on-going programs.
PT School: Central Michigan University for both Masters and Doctorate in PT. Fire Up, Chips! In January, I am bringing an all-encompassing Performing Arts curriculum back to my PT alma mater, CMU, to teach PT students about performing arts rehabilitation.
14 years in PT Practice! I also danced for over 20 years and played the coronet for 8 years from elementary through high school in the wind ensemble and marching band. I have even acted in a few plays through high school and college.
I feel that most of the PASIG members have their own unique experience with injury-either directly or indirectly as a performer- and they realize there is a disconnect present from all facets of health care-and that they want to do something about it! I am proud to serve as an advocate for my student performers who are caught in challenging situations due to their academic standing being directly linked to their ability to maintain full physical AND cognitive performance even through injury. I know what it feels like to have health care providers that do not speak your language, or have any idea of the physical demands of performing arts, and I am grateful that the physical therapy profession is realizing the need for this patient population through PASIG programming and initiatives.
I joined the PASIG to connect with other performing arts providers and to better the lives of Performing Artist (patients) across the US. I love to teach and have used my past experience with injury to fuel our programming at the University of Michigan and look forward to assisting the PASIG in the same way.
FUN FACT: My hubby and I took professional Cha Cha lessons for our wedding dance, even having our lifts choreographed by Olympic ice dancers!