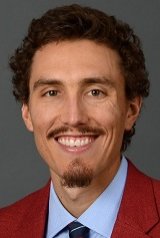 Jacob J. Capin, PT, DPT, PhD, MS, was recently recognized as a 2021 NIH Director's Early Independence Awardee. Dr. Capin is one of only 13 recipients this year and, to our knowledge, the first physical therapist to receive the NIH Director's Early Independence Award. The Award is part of the NIH Common Fund's High-Risk, High-Reward Research Program, which supports highly innovative research proposals that, due to their inherent risk, may struggle in the traditional peer-review process despite their transformative potential. Capin's five-year, $1.9 million NIH grant will investigate the impact of prior injury and sedentary behavior on long-term health in current and former competitive athletes (DP5-OD031833).
Dr. Capin is an Assistant Professor of Physical Therapy at Marquette University and Director of the emerging Life After Sport Trajectories (LAST) laboratory, whose mission is to advance long-term health in athletes. Capin said, "Findings from the NIH Director's Early Independence Award will inform how physical therapists and other healthcare professionals rehabilitate and counsel athletes for long-term health and provide critical evidence for future intervention studies designed to prevent disease, promote health, and facilitate an aging population less reliant on costly end-stage medical procedures."
Prior to coming to Marquette University in September 2021, Dr. Capin was a postdoctoral fellow at the University of Colorado Anschutz Medical Campus and, concurrently, an Advanced Geriatrics Fellow in the Veterans Affairs Eastern Colorado Geriatric Research, Education, and Clinical Center. Dr. Capin received an Academy of Physical Therapy (AOPT) Career Development Grant to support his professional development and postdoctoral research. The purpose of the AOPT research project was to determine how factors including movement patterns contribute to contralateral knee osteoarthritis (OA) following unilateral total knee arthroplasty (TKA) and to provide the fellow a comprehensive postdoctoral training experience. The primary aims of the project have yet to be published, as data from the parent clinical trial are still being collected and analyzed, due largely to COVID-related pauses in TKA surgeries and thus recruitment.
Dr. Capin shared with us the importance of funding from the AOPT: "I am incredibly grateful for funding from the Academy of Orthopaedic Physical Therapy, as it not only provided invaluable support for my postdoctoral training and research, but also helped establish my track record of individual funding. While I benefited greatly from assisting my postdoctoral mentor, Dr. Jennifer Stevens-Lapsley, and the RESTORE Team at Colorado in writing major NIH and VA grants, establishing the early career record as Principal Investigator essential for future funding prospects can be difficult." Capin created that essential record as Principal Investigator through the AOPT Career Development Award as well as extramural funding from the NIH (F30, F32), Department of Veterans Affairs, and Foundation for Physical Therapy Research. "I hope that my NIH Director's Early Independence Award inspires other physical therapists to pursue research careers and apply for major extramural grants," Capin said.
The Academy of Orthopaedic Physical Therapy supports physical therapy research through a variety of mechanisms including the Career Development Award Capin received as well as New Investigator, Clinical Research, and Unrestricted grants that are part of the Small Grant Program. The AOPT also has Advocacy and Residency or Fellowship Program Grants available to its members. Dr. Capin encouraged members to apply for these funding mechanisms: "Funding from the Academy of Orthopaedic Physical Therapy is a great pathway to support research projects, establish preliminary data needed for major extramural grants, and catalyze one's research trajectory."
Capin completed an MS in anatomy and clinical health sciences, Doctor of Physical Therapy (DPT), and PhD in biomechanics and movement sciences from the University of Delaware through an NIH-funded, dual-degree DPT/PhD training program (T32-HD007490 and F30-HD096830). He previously graduated Summa Cum Laude from Christopher Newport University, where he played NCAA basketball and majored in psychology. He now volunteers as a USA Triathlon certified coach and competes for the Every Man Jack Triathlon Team and as a USA Triathlon All-American Triathlete – personal passions that inform his research.
"I would be delighted to chat with AOPT members pursuing careers in research, especially those who may be interested in PhD or postdoctoral training," Capin said. "I am so grateful for the many mentors who have supported and continue to support me, and I hope to pay it forward to the next generation of clinician-scientists."