26.2 - Current Concepts of Orthopaedic Physical Therapy 4th ed.
Course Description

This 4th edition work presents a thorough review of anatomy and biomechanics of each body region, application of specific tests and measurements, musculoskeletal pathology, and effective treatment strategies. Our previously used authors continue to share evidence-based techniques in orthopaedic physical therapy evaluation, assessment, and intervention. The fi rst monograph describes the multifaceted process of clinical reasoning and utilization of evidence-based practice physical therapy management. The remaining monographs each cover a major joint region of the body, from the cervical spine and temporomandibular joint to the foot and ankle. Each monograph concludes with case scenarios that require clinical problem solving and allows readers to compare their answers with the experts' rationale. Take advantage of this convenient and challenging opportunity to enhance your background and sharpen your reasoning skills.
Course Overview
Course Format: Online with an option to purchase the print version
Contact Hours: 96 contact hours
State Approval: AOPT courses are accepted in all states plus the District of Columbia, as allowed by the type of course requirements in state regulations. A small number of states require APTA to seek pre-approval of courses. The approval codes for these states can be found here. Always check with your State Licensing Board to confirm contact hours offered.
View Full State Approval Information
Pricing
| | Online Only | Online + Print |
| --- | --- | --- |
| AOPT Member | $300 | $360 |
| Non-AOPT Member | $400 | $460 |
Cancellation Policy
Due to the automation of our learning management system allowing you instant access to the online content and the immediate order placement for a plus print product, there are no refunds after an order is placed.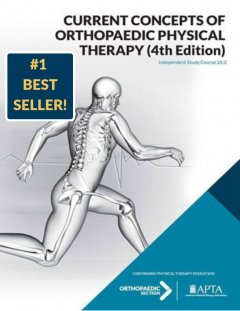 You need to login to purchase this course. If you do not have an account, click on the box below and follow the instructions for creating an account.
Login or Create Account
Course Objectives
Define clinical reasoning as presented in the contemporary research literature and explain how clinical reasoning is a necessary tool in the application of evidence to practice.
Describe the clinically relevant anatomy, biomechanics, and pathomechanics of each region of the body.
Understand the pathology, diagnosis, and intervention for common dysfunctions, disorders, injuries, and lesions of each body region.
Discuss differential diagnosis and medical screening in physical therapy including the presence of red or yellow flags and indications for referral to another health care provider.
Understand the medical diagnosis and the associated physical therapy diagnosis related to trauma and degenerative pathologies, as well as those following surgical intervention.
Identify and describe impairments and functional losses as a consequence of pathology.
Be able to choose appropriate evidence-based therapeutic interventions for rehabilitation based on findings from self-report measures and the examination process.
Understand the role of clinical prediction rules and classification-based treatment strategies.
Understand the risks and benefits associated with physical therapy interventions directed at specific areas of the body.
Critique rehabilitation progressions, prognosis, and outcomes for selected common pathologies for each area of the body.
Discuss the indications and contraindications for joint mobilization techniques.
Assess progressive treatment programs for each joint or body region.
Discuss the relationship between impairment findings, functional limitations, and disabilities in guiding treatment interventions.
Describe autonomous physical therapy practice and its role in patient management utilizing current evidence.
C??orrectly answer and explain rationale for all questions presented within the case scenarios for each body region.
Topics and Authors


Clinical Reasoning and Evidence-based Practice
Nicole Christensen, PT, PhD, MAppSc; Benjamin Boyd, PT, DPTSc, OCS; Jason Tonley, PT, DPT, OCS
The Shoulder: Physical Therapy Patient Management Using Current Evidence
Todd S. Ellenbecker, DPT, MS, SCS, OCS, CSCS; Robert C. Manske, DPT, MEd, SCS, ATC, CSCS; Marty Kelley, PT, DPT, OCS
The Elbow: Physical Therapy Patient Management Using Current Evidence
Chris A. Sebelski, PT, DPT, PhD, OCS, CSCS
The Wrist and Hand: Physical Therapy Patient Management Using Current Evidence
Mia Erickson, PT, EdD, CHT, ATC; Carol Waggy, PT, PhD, CHT; Elaine F. Barch, PT, DPT, CHT
The Temporomandibular Joint: Physical Therapy Patient Management Using Current Evidence
Sally Ho, PT, DPT, MS, OCS
The Cervical Spine: Physical Therapy Patient Management Using Current Evidence
Michael B. Miller, PT, DPT, OCS, FAAOMPT, CCI
The Thoracic Spine: Physical Therapy Patient Management Using Current Evidence
Scott Burns, PT, DPT, OCS, FAAOMPT; William Egan, PT, DPT, OCS, FAAOMPT
The Lumbar Spine: Physical Therapy Patient Management Using Current Evidence
Paul F. Beattie, PT, PhD, OCS, FAPTA
The Pelvis and Sacroiliac Joint: Physical Therapy Patient Management Using Current Evidence
Richard Jackson, PT, OCS; Kris Porter, PT, DPT, OCS
The Hip: Physical Therapy Patient Management Using Current Evidence
Michael McGalliard, PT, ScD, COMT; Phillip S. Sizer Jr, PT, PhD, OCS, FAAOMPT; Dean Ezell, MD
The Knee: Physical Therapy Patient Management Using Current Evidence
Tara Jo Manal, PT, DPT, OCS, SCS; Anna Shovestul Grieder, PT, DPT, OCS; Bryan Kist, PT, DPT, OCS
The Foot and Ankle: Physical Therapy Patient Management Using Current Evidence
Jeff Houck, PT, PhD; Christopher Neville, PT, PhD; Ruth Chimenti, PT, PhD