22.3 - Foot and Ankle
Note: CEUs are not offered for this course.
Course Description
This 6-monograph series reviews foot and ankle biomechanics as it relates to a systematic and evidence-based clinical examination process. Select topics cover common pathologies and specifically the evaluation and treatment of adult acquired flatfoot disorders. Development of proper rehabilitation strategies are covered along with specific interventions dealing with orthotics, bracing, and taping as viable treatment options.
Course Overview
Course Format: Online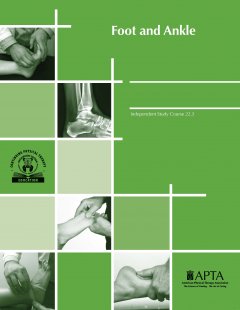 You need to login to purchase this course. If you do not have an account, click on the box below and follow the instructions for creating an account.
Login or Create Account
Pricing
| | Online Only |
| --- | --- |
| AOPT Member | $60 |
| Non-AOPT Member | $75 |
Cancellation Policy
Due to the automation of our learning management system allowing you instant access to the online content and the immediate order placement for a plus print product, there are no refunds after an order is placed.
Course Objectives
Describe the anatomy and biomechanics of the foot and ankle.
Identify terminology commonly applied to the examination and description of foot and ankle biomechanics.
Distinguish between normal and abnormal foot and ankle biomechanics during walking, running, and other tasks.
Appreciate the influence of foot and ankle function to hip and knee motion.
Apply the World Health Organization (WHO) and International Classification of Function (ICF) models to the evaluation of the foot ankle complex.
Apply sound clinical reasoning skills and reliable clinical measures to the evaluation process.
Understand exercise physiology of range of motion, strength, flexibility, soreness, neuromuscular adaptation, and return to function as they pertain to exercise prescription for various foot and ankle pathologies.
Implement an exercise program for the entire lower extremity, given a foot and ankle dysfunction or impairment.
Distinguish between when to prescribe open- and closed-kinetic chain exercise for the foot and ankle.
Critically appraise and summarize the general benefits of manual therapy intervention strategies for the foot and ankle complex.
Determine the efficacy of taping interventions on proprioception, alterations in lower extremity biomechanics, and healing.
Summarize the evidence concerning the reliability and validity of a biomechanical examination and the concept of normal subtalar neutral position.
Create an intervention program consisting of manual therapy, taping techniques, and exercise for the various conditions including hallux abducto-valgus, cuboid syndrome, tendinopathies, ankle syndesmosis problems, and plantar fasciitis.
Evaluate the role of custom and prefabricated foot orthoses as an intervention used by physical therapists in treating overuse conditions of the lower limb.
Describe current theories related to why foot orthoses may be beneficial.
Describe the etiology and pathophysiology associated with adult acquired flatfoot deformity secondary to posterior tibial tendon dysfunction.
Understand the physical examination and develop clinical staging methodology as a way of evaluating and treating patients with flatfoot deformity.
Discuss nonoperative and operative treatment options for adult acquired flatfoot deformity.
Topics and Authors
Biomechanics of the Foot and Ankle for the Physical Therapist
Jeff Houck, PT, PhD (Subject Matter Expert: Christopher R. Carcia, PT, PhD, SCS, OCS)
Adult Acquired Flatfoot Disorders
Brandon E. Crim, DPM, and Dane K. Wukich, MD (Subject Matter Expert: Christopher R. Carcia, PT, PhD, SCS, OCS)
Examination of the Ankle and Foot
Todd E. Davenport, PT, DPT, OCS (Subject Matter Expert: RobRoy Martin, PT)
Exercise Progressions for the Foot and Ankle
Clarke Brown, PT, DPT, OCS, ATC (Subject Matter Expert: Christopher R. Carcia, PT, PhD, SCS, OCS)
Taping, Mobilization, and Exercises for the Foot and Ankle
Stephen Paulseth, PT, DPT, SCS, ATC, and RobRoy Martin, PhD, PT, CSCS (Subject Matter Expert: Todd E. Davenport, PT, DPT, OCS)
The Effectiveness of Foot Orthoses for the Treatment and Prevention of Lower Extremity Overuse Injuries
James W. Matheson, PT, DPT, MS, OCS, SCS (Subject Matter Expert: Deb Nawoczenski, PT, PhD)