Meet our Exceptional Faculty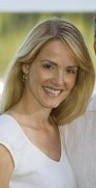 Ria Acciani, MPT
Ria Acciani received her MPT degree from The University of St. Augustine, FL, and trained directly with Stanley V. Paris, PT, PhD, FAPTA. She graduated in 1997 and concentrated on outpatient orthopedics and Early Intervention/Pediatrics. She combined her love for animals and human skills to specialize in canine rehabilitation. Ria received her education from the University of Tennessee. She now owns and operates a private practice with her husband, David Acciani, PT, for the past 17 years. Advanced Canine Rehabilitation (ACR), is an orthopedic practice that focuses on rehabilitation of performance and sporting dogs. Ria and David travel extensively to many regional, national, and international dog competitions, and work with top-level competitors. Ria has traveled overseas with the IFCS US Agility Team, AKC World Team, and WAO World Team 2010-2016. They have established the rehabilitation protocol for various shoulder, hip and elbow conditions.Their published work has been in both JAVMA, and Clean Run. They have presented at the International Rehabilitation Symposium in 2008 and 2010. Topics included modalities, shoulder & elbow rehabilitation. They also instructed at the Symposium on Therapeutic Advances in Animal Rehabilitation (STAAR) continuing education workshops for the last 6 years. Ria was invited and presented at the September 2014 Animal Rehabilitation SIG for the APTA in Springfield, MA.
Stevan S. Allen MAPT, CCRT
Stevan S. Allen MAPT, CCRT is the President and CEO of Sierra Peaks Animal Rehabilitation Inc. He obtained his BA from the University of Colorado in Biology and his Master's Degree in Physical Therapy from Stanford University. In 2011, he completed his certification in animal rehabilitation from the Canine Rehabilitation Institute (CRI). Stevan has over 35 years of demonstrated success in the field of physical therapy and rehabilitation services, with clinical skills in Orthopedics, Neurologic, and Sports Medicine, as well as business development and practice management. Stevan is currently the National Vice President of the Animal Rehabilitation Special Interest Group (AR-SIG) within the Orthopedic Section of the American Physical Therapy Association (APTA). He was the managing partner and majority shareholder in one of the oldest and largest private Physical Therapy practise in California. As the managing partner, Stevan was responsible for all aspects of operations for one of the most diverse private rehabilitation practice. Stevan successfully negotiated the sell of their private practice to a Fortune 300 company (Stryker Medical) in 2001.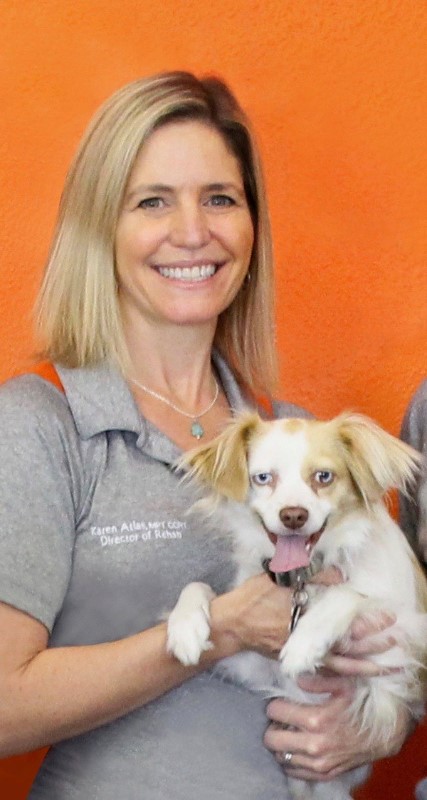 Karen Atlas, PT, MPT, CCRT
Karen is an experienced and licensed human Physical Therapist having graduated with a Masters degree from UC San Francisco/San Francisco State University in 1996. After adopting an injured dog named Teddy, she soon became passionate about applying her therapy skills and knowledge to the canine population. She is a Certified Canine Rehabilitation Therapist (CCRT) and successfully completed the program offered through the Canine Rehabilitation Institute (CRI) in 2008. She is the first certified canine rehab specialist practicing in her hometown of Santa Barbara. Before starting her own practice, she served as the Director of Rehabilitation at a local facility for 8 years. She is now the founder/owner and Director of Rehabilitation at Atlas Rehabilitation for Canines (ARC) (www.atlasrehabforcanines.com), which is currently the Central Coast of California's only full service, stand-alone rehabilitation clinic of its kind. ARC is an accepted provider of education for the Canine Rehabilitation Institute, as they are approved as an internship site for the completion of the canine certification program.
Karen was invited to join the faculty at the Canine Rehabilitation Institute and team taught the Introduction to Canine Rehabilitation in Broomfield, Colorado. Furthermore, she has also been an invited guest lecturer for Western University School of Veterinary Medicine.
As a fierce advocate for the consumers and their pets in California, she has been intimately involved in the regulation of Animal Rehabilitation and served on the California Veterinary Medical Board's Animal Rehabilitation Task Force. She maintains her steadfast desire to allow for consumer choice of and increased access to qualified non-veterinary professionals (i.e. advanced trained, licensed and certified physical therapists) and is the President of the California Association of Animal Physical Therapists (www.caapt.org). She is also an active member of the California Physical Therapy Association (CPTA) and serves as the California state liaison to the American Physical Therapy Association on Animal Rehabilitation.

Amie Lamoreaux Hesbach, PT, DPT CCRP, CCRT
Amie Lamoreaux Hesbach, PT, DPT, MS, CCRP, CCRT is a physical therapist practicing in small animal rehabilitation and physical therapy, applying expertise and experience from treating human patients with orthopaedic, athletic, and neurologic injuries and disorders. Dr. Hesbach was educated at the University of Montana (DPT, Physical Therapy), the Medical College of Virginia (MS, Physical Therapy), and Slippery Rock University of Pennsylvania (BS, Biology). She completed a post-graduate residency in Proprioceptive Neuromuscular Facilitation at the Kaiser Foundation Rehabilitation Center in Vallejo, California and has modified these techniques for use with her animal patients. With clinical interests ranging from neuro-rehabilitation and manual therapy techniques to injury prevention in canine sports medicine, Dr. Hesbach is certified in Canine Rehabilitation though both the University of Tennessee and the Canine Rehabilitation Institute. As a Certified Clinical Instructor, she has supervised externships for both physical therapy and veterinary students. Dr. Hesbach has published and lectured on both human and canine rehabilitation in the United States, the United Kingdom, and Japan. Dr. Hesbach is the past President of the Animal Rehabilitation Special Interest Group of the APTA. Currently, Dr. Hesbach owns and operates EmpowerPhyioPeT, an in-home animal rehabilitation and physical therapy practice near Boston, Massachusetts, USA.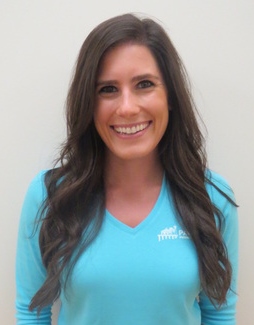 Ashley Manoogian PT, DPT, CCRT
Dr. Ashley Manoogian received her Bachelor of Science in Kinesiology from the University of Southern California in 2010. During her undergraduate studies, she worked as a student Athletic Trainer in the USC Athletic Medicine Department. Dr. Manoogian continued her education at USC, graduating with a Doctorate of Physical Therapy in 2013. While completing her Doctorate studies, Dr. Manoogian worked as a research assistant for the Locomotor Experience Applied Post-Stroke (LEAPS) study, aiming to improve rehabilitation approaches for stroke survivors.
Dr. Manoogian attained further credentials as a Certified Canine Rehabilitation Therapist at the Canine Rehabilitation Institute. She is a member of the American Physical Therapy Association (APTA) as well as the Orthopedic and Animal Rehabilitation Special Interest groups. Dr. Manoogian has served as a Nominating Committee Member on the APTA Animal Rehabilitation Special Interest Group since 2015. Dr. Manoogian also teaches continuing education courses to further the profession of animal rehabilitation.
Dr. Manoogian's desire to combine her extensive physical therapy knowledge and manual skills - coupled with her love of animals - is what drew her to California Animal Rehabilitation. Her passion for sports injury prevention, post-operative rehabilitation, and biomechanical analysis is evident in her multifaceted and highly effective approach to animal rehabilitation. Dr. Manoogian additionally applies her expertise by focusing on sport-specific training for canine athletes and task-specific rehabilitation for working dogs, ensuring a return to function and maintenance of peak performance.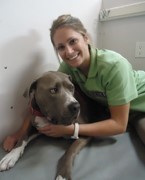 Katie Reinhardt, PT, DPT, CCRT
Dr. Reinhardt, physical therapist, has been a member of the Animal Rehabilitation Special Interest Group (ARSIG) since 2014 as part of the American Physical Therapy Association. She is currently in her second year of serving as nominating committee board member for the ARSIG. Katie completed the necessary coursework to become a Certified Canine Rehabilitation Therapist in 2015 and practices at California Animal Rehabilitation in Los Angeles alongside veterinarians treating pets with an array of conditions.
Dr. Reinhardt graduated from the University of Southern California with a Doctorate of Physical Therapy in May, 2014 and graduated from the University of California, Davis in 2010 with a Bachelor of Science in Animal Biology and a minor in psychology. She worked in the canine gait lab at Davis' school of veterinary medicine and helped publish a study to help identify canines with neuromusculoskeletal disabilities earlier in the disease process in order to provide effective therapeutic treatment.
Over the last few years, she has taught clinics and given lectures educating students and the general public about animal rehabilitation in the Los Angeles area including Western University, University of Southern California and at The Annenberg Pet Space. Dr. Reinhardt has been working in animal rehabilitation since she graduated physical therapy school and wants to further the profession and quality of treatment for animals through learning, collaboration, research and educating others about the profession.