The AOPT would like to share some stories and examples from the front lines of PT finding innovative ways to navigate these unprecedented times. We have heard stories of telehealth and technology being used to overcome barriers in practice, education, and research.
If you have any stories of members finding effective ways of addressing their new challenges, we'd love to share them with the AOPT membership (as one example, the RFSIG finding ways to keep their residencies and fellowships going).
Please submit any stories you have to marketing@orthopt.org
---
Here are some stories we'd like to share...
We are using this time to "see" patients via Telehealth and practice skills we can use in the future like casting for orthotics. See our video on instagram: MindBodyphysicaltherapy. We miss using manual techniques on our patients, but are confident that we can maintain our skills until we are ready to welcome patients to our clinic once again!
Christina Frohlich PT DPT OCS
ebpt.laketahoe@gmail.com
Owner, Mind Body Physical Therapy
South Lake Tahoe, CA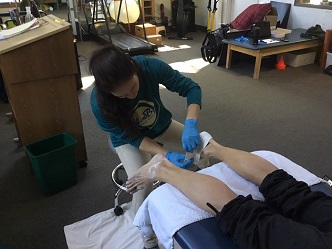 ---
My name is Jenna Kantor, PT, DPT, and I have 2 online 8-week wellness programs for dancers called Improve Your Turnout and Difficulty Doing Developpe. Right now, dance studios are at the risk of closing and I wanted to help. I have 4 studios using my program to keep an income coming in. They charge whatever they want and collect the money directly, keeping 100% of the profits. Since my orthopedic practice works with mostly dancers, the idea of dance studios closing runs near and dear to my heart. If you would like more info, let me know.
Here is the website where the two programs are hosted - Powerful Performer | jkpt
Dance studio owners who want to use this program contact me directly at jennafkantor@yahoo.com
Sincerely, Jenna Kantor
---
My name is Emma Zeligson and I am an orthopedic physical therapist at Boston University Physical Therapy Center. On March 16th, we made the decision to discontinue in person care and go completely remote for the safety of our patients, therapists and staff. Over the past two weeks, we have worked tirelessly to transition our care online with secured HIPAA protected Zoom and Microsoft Teams to communicate with each other and with our patients. This has allowed excellent continuation of care for all current patients as we are observing, demonstrating, and providing feedback on appropriate postures and exercises to help manage their symptoms and maximize their abilities to work in new environments and exercise with limited equipment. This week, we have started a new platform we call BUPTC Live, where perspective patients are able to call our front desk staff members to receive intake paperwork and then immediately transition to one of our expert therapists who is standing by and ready to take a new evaluation. This allows little to no wait time for patients in pain to start their physical therapy. Despite limitations performing an initial evaluation over a video call, we feel confident that our detailed subjective assessments, movement analysis, and advanced clinical reasoning provide us ample opportunity to implement and appropriately formulate a plan of care that is targeted to each individual's symptoms and functional limitations. So far, working with patients over secured video calls has allowed increased patient autonomy and self-efficacy with their own rehabilitative process. We are still able to track their progress objectively with electronically administered patient reported outcome measures that are sent to each patient prior to their visit. We anticipate consistent results of progress that we typically see in the clinic due to the continued thorough and thoughtful care we are providing. We hope to spread awareness of our success thus far with the rest of the physical therapy community so that we as a profession may continue helping our communities in need.
Our clinic is continuing to provide care to our current patients and introduced direct access for new patients via Telehealth, BUPTC Live, and on social media (Follow Us: Facebook l Instagram l Twitter). Over the past two weeks, we have had a total of 46 initial evaluations and 223 treatment sessions via telehealth. Please let me know if you have any further questions as I would be more than happy to further discuss!
Sincerely,
Emma Zeligson
ezeligso@bu.edu
---
I am a Physical Therapist working at a large federal facility. Our role has changed with the COVID-19 Pandemic. We still see some of the acute orthopedic cases and post-operative cases. For the last 3 years I have been integrated in the Family Practice and Sports Medicine Department. I am now, more than ever seeing the primary musculoskeletal care so that the physician staff can be offloaded to take care of those suspected of COVID-19 and those patients with complicated medical issues. In my role I am available to all staff and residents as well as direct call in access through 3 call centers. I am using every bit of the federal practice act every day. I see direct access primary care, I order imaging and appropriate laboratory studies. I even have limited prescriptive capacity. Additionally, I am providing e-visits and basic musculoskeletal screenings over the phone.
In the past few weeks I have done everything from standard post-operative evaluation and treatment of a SLAP tear from one of our Orthopedic Surgeons, to screening and ruling out an acute ankle fracture in a lady who slipped as she and her husband were walking a new trail, manipulating an acute low back facet dysfunction that happened when a retiree was cleaning his garage, finally providing telephone screening and guidance to a lady with COPD and previous THA ergonomics and a home exercise program using only items available in her home.
Stay safe, and stay home if you can.
Robert Nosek, PT, DPT, OCS, CSCS
drrobnos@gmail.com
---
I'm so grateful you ran this (ISC) sale - will keep me sane during this quarantine! Our clinic shut down over two weeks ago and my profession is such a huge part of my identity, it's been really difficult feeling as if I don't have a purpose, so thank you!! I'm looking forward to being able to spend my time with these materials. Thank you!!
Allison Gould
allison.gould@gmail.com
---
It's the choices we make in times of adversity that will define us... Our residency program faced some tough decisions this past week. Suspending the program was an option, however in a meeting of residents and mentors the unanimous decision was made to carry on with our program. We will leverage technology and continue with Grand Rounds, Journal Club, and Didactic education utilizing virtual platforms. I've never been prouder to be a part of this group and watch them rise to the challenge. This is how you build your leaders... #residency #apta #physicaltherapy #leadershipProfessionalPhysicalTherapy
Frank Hoeffner PT,DPT,OCS,CSCS
fhoeffner@professionalpt.com
Lauren Donahoo
ldonahoo@professionalpt.com
---