ORF-SIG nominating committee member
Tyrees Marcy, PT, DPT, OCS, COMT, FAAOMPT
Candidate Introductory Video:
Click here to meet this candidate.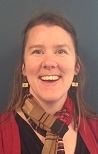 Candidate Profile
My name is Tyrees Marcy and I am a Physical Therapist at Olympic Sports and Spine Therapy in Tacoma, Washington. Within my position, I am a Company Float, working with over 75 PTs and PTAs in providing clinical care as well as on-site mentoring hours. I sit on the Clinical Education Team, teaching within our new Residency Program and providing quarterly continuing education for staff. I have been an APTA Member since 1997 and belong to the Hand & Upper Extremity, Orthopaedics & Sports Sections. I am a Washington State Chapter Member and have a Spinal Manipulation Endorsement Approval in Washington State. I have been a Board-Certified Clinical Specialist in Orthopaedic Physical Therapy since 2010 with re-certification in 2019. I have been a Fellow of the American Association of Manual Physical Therapists since 2013 and serve as a Clinical Fellowship Instructor for the North American Institute of Orthopaedic Manual therapy.
Candidate Statement:
The mission and vision of the Orthopaedic Residency/ Fellowship Special Interest Group [ORF-SIG] include: serving the orthopaedic residency and fellowship community and to be a community of excellence in orthopaedic residency and fellowship education. With these distinct functions, the ORF-SIG's future needs to be centered on the Resident and Fellowship Students of today with the development and advancement of our current and future programs, reflecting the clinical research and advancement of the Physical Therapy profession based on the healthcare needs of the orthopaedic populations we serve. As a member of the Physical Medicine Best Practices Stakeholder Workgroup, I work with a diverse membership including Washington State Labor and Industries to develop communication standards between the Attending Physician and Industrial Rehabilitation Providers, to establish therapy guidelines for practice patterns regarding the injured worker, and provide vital input for the standardization of Work Conditioning / Work Hardening programs. While serving as the Nominating Committee Member for the ORF-SIG Committee, I look forward to working with a group of dedicated professionals who will be centered on the facilitation of research within our programs, who communicate with our Residency and Fellowship Directors in order to provide consistent guidelines and identify developmental changes that meet ABPTRFE quality standards, establish an effective working budget, and engage our membership base by provide viable cutting edge educational programming at CSM and the Section Annual Meeting. I can make a direct impact by recruiting individuals to who will diversify our member base for the growth and future of ORF-SIG.