Imaging SIG nominating committee member
Beshoy Ghaly, PT, DPT, RMSK, ECS
Candidate Introductory Video:
Click here to meet this candidate.

Candidate Profile
Doctor of Physical Therapy and an ABPTS Board Certified Specialist in Clinical Electrophysiology. He is also Registered in Musculoskeletal Sonography (RMSK) by the Alliance for Physician Certification and Advancement (APCA) and holds The Point-of-Care Ultrasound (POCUS) Musculoskeletal (MSK) Soft Tissue Certificate. He performed and interpreted thousands of diagnostic musculoskeletal ultrasound studies in both physical therapy and medicine practice settings including the highly specialized orthopedic surgery field. He is also an APTA-Credentialed Clinical Instructor and published articles in the Neurodiagnostic Journal and The Journal of the Bodywork and Movements Therapies. He proudly served the Academy of Clinical Electrophysiology and Wound Management (ACEWM) as a Nominating Committee Member for a 1-year term and currently a Nominating Committee Chief of the NMSKUS- SIG of the ACEWM. He is an active member of the American Physical Therapy Association (APTA), American institute of Ultrasound in Medicine (AIUM) and The Neurodiagnostic Society (ASET).
Candidate Statement:
Imaging plays a major role in modern physical therapy practice. A special interest group that strongly supports the use of imaging in PT practice as a diagnostic tool is critically important. I have a special interest and experience in joints and nerves diagnostic ultrasound and its use in the physical therapy and medicine practice settings. Advocacy and recognition of the diagnostic imaging abilities of the Doctors of Physical Therapy should be our SIG's future direction. This includes establishing a strong Physical Therapy representation and participation in other medical imaging societies like AIUM (American Institute of Ultrasound in Medicine). We should focus on enhancing the imaging evidence-based Physical Therapy practice as well as involving in research projects that reflects our excellence in diagnostic imaging field as PTs. We should support the imaging educational materials needed for the modern Doctor of Physical Therapy along with advancing the imaging curriculum for future PT students to reflect APTA vision regarding the direct access. We have to work together to negotiate better reimbursements for our diagnostic imaging services. The Imaging SIG should function in a way that allows it to continue as a leading authority for imaging in Physical Therapy practice. I seek nomination as a junior member, and I am willing to help with what I know and learn whatever it takes to help advancing our profession and the overall patient care.
Lynn McKinnis PT, DPT, OCS
Candidate Introductory Video:
Click here to meet this candidate.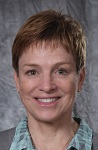 Candidate Profile
Lynn McKinnis, PT, DPT, OCS, has worked as a physical therapist for 40 years. She is a staff therapist for Concordia Visiting Nurses in Butler, PA, an adjunct professor in the Physical Therapy Dept at St. Francis University, a Faculty Affiliate at the University of Montana, and an Associate Editor at JOSPT for Musculoskeletal Imaging Cases. In 1997 Lynn authored Fundamentals of Orthopedic Radiology, the first imaging textbook written by and for PTs. Currently, Fundamentals of Musculoskeletal Imaging is in its fourth edition and used by the majority of DPT curriculums in the USA. She collaborated with a radiologist for a second text, Musculoskeletal Imaging Handbook: A Guide for the Primary Practitioner, written for all primary access clinicians. Lynn became Pennsylvania's first Orthopaedic Clinical Specialist in 1989, and twenty years later received the APTA's Outstanding Contribution to the Professional Literature Award for her publications on diagnostic imaging for physical therapists.
Candidate Statement:
I have never held an office at any level in the APTA. Most of my professional life was spent in my day job of clinical work, updating my textbook, smaller imaging writing projects, and teaching imaging through continuing education courses for chapters of the APTA and AOTA. The privilege of being an Associate Editor for the Musculoskeletal Imaging feature of JOSPT for the past few years has given me the opportunity to meet PTs from all over the nation through their manuscript submissions. My "imaging world" is no longer confined to academia but to the real world of clinical application of imaging knowledge. The position of Nominating Committee Member seems a good fit at this point. I now have an ever-growing network of PTs interested in imaging to search through for the people-finding tasks appointed to the Nominating Committee. And I am happy to be a part of this Imaging SIG…something that wasn't even a concept when I first started struggling to obtain patient images for my text back in the 80's!
Lance Mabry PT, DPT, OCS, FAAOMPT
Candidate Introductory Video:
Click here to meet this candidate.


Candidate Profile
Lance Mabry received his Doctorate of Physical Therapy from U.S. Army-Baylor University. While serving in the military, he completed two deployments supporting Operation Enduring Freedom and Operation Iraqi Freedom. He completed a Manual Therapy & Primary Care Fellowship from Kaiser Permanente and is a Fellow of the American Academy of Orthopaedic and Manual Physical Therapists. He is a Board Certified Orthopaedic Physical Therapist. Lance retired from the United States Air Force in 2018 and is currently an Assistant Professor at High Point University. His instructional load includes a course in Primary Care, which includes 2 credits in diagnostic imaging. He is pursuing his PhD in Business Administration at the University of North Carolina and serves as the Vice Chair of the Triad District of the American Physical Therapy Association North Carolina. Lance has multiple diagnostic imaging publications which may be viewed here: https://www.researchgate.net/profile/Lance_Mabry.
Candidate Statement:
The Imaging Special Interest Group is poised to become one of the most pivotal and transformational groups within the American Physical Therapy Association (APTA). With the recently publication of diagnostic imaging statutes, the APTA is preparing for a nationwide battle on state practice acts to add diagnostic imaging orders to physical therapists' (PT) practice. While it is known that diagnostic imaging is over utilized in roughly 66% of cases, it is even more concerning that roughly 66% of patients with red flags are not getting the imaging they need to screen them for serious pathology (Jenkins, et al). While only 1 in 3 patients are appropriately imaged in primary care, PTs order imaging appropriately in over 90% of cases (Moore, et al; Crowell et all). Further, insurance companies have been reported to reimburse 100% of imaging consults ordered by PTs (Keil, et al) and a retrospective study found no safety concerns with PTs ordering imaging.(Mabry, et al). PTs are ready to take the reins of diagnostic imaging orders as the experts in musculoskeletal care. To that end, we need champions in this space that will fight for our rights as expert clinicians. I have dedicated my life to the appropriate clinical application and grassroots advocacy for diagnostic imaging legislation. I recently proposed pursuing diagnostic imaging legislation to the APTA North Carolina, which was unanimously passed by the Board members. I'm excited to propagate our successes to other states as PTs transition to primary care musculoskeletal providers.