2019 AOPT Slate of Candidates
Vice President
Lori Michener, PT, PhD, ATC, SCS, FAPTA
Candidate Introductory Video:
Click here to meet this candidate.


Candidate Profile
I currently am a Professor, Director of Clinical Outcomes and Research, and Director of the COOR Lab in the Division of Biokinesiology and Physical Therapy at the University of Southern California. I also treat patients part-time in our faculty practice, and mentor sports and orthopaedic residents. My research is clinically founded, aimed at defining optimal treatment pathways for patients with musculoskeletal shoulder disorders. My honors and achievements include, Catherine Worthingham Fellow of the APTA, Sports Certified Specialist, 2004 - present, and multiple publication awards, and national and international keynote and invited presentations. I have been a member of AOPT, Sports and Research Sections for over 25 years. In the AOPT, I have served on the Advisory Board - Home Study Courses, National Orthopaedic Physical Therapy Outcomes Database, and Annual Meeting Committee. I have chaired the Advisory Board for the Clinical Research Network Grant and Research Committee, and currently serve as Vice-President.
Candidate Statement:
I am honored to be nominated for a second term as Vice-President. I am passionate about advocating and getting involved to promote positive change, with a key focus on advocacy and research efforts to improve public knowledge and real-world direct-access to physical therapy services. We need to direct efforts at branding to improve the general public understanding of the value of physical therapy. At the same time, we need to continue to lead research and to continue to develop and publish clinical practice guidelines that clinicians can use to guide their practice. Furthermore, I will support efforts for the section to provide guidance for members to function within the ever evolving health-care payment structure. My prior experience and current position provide an optimal background to support these goals. Finally, if elected, I will strive for open communication and to facilitate a dialogue with members of the AOPT to achieve the goals set forth in the AOPT's strategic plan.
director
Janet L. Konecne, PT, DPT, OCS, CSCS
Candidate Introductory Video:
Click here to meet this candidate.


Candidate Profile
Janet L. Konecne, PT, DPT, OCS, CSCS is a clinician and educator from Southern California. She is the Director of Clinical Education and an Associate Professor in the Department of Physical Therapy at Western University of Health Sciences in Pomona, California and practices at a private clinic in Anaheim, California where she educates the community on movement related issues and prevention. She has been an active member of the APTA since 1982 and a member of the Education, Orthopaedic, and Geriatric Sections for many years. She has received the Charles Magistro Service Award for California. She has a subspecialty in Performing Arts Medicine, assisting dancers, instrumentalists, actors and creative performers with injury prevention and management. She is currently serving as a medical advisor to Pacific Crest, a Drum and Bugle Corp, and has served as a technical advisor for the film and television industry. Dr. Konecne has served on the California Chapter Board, and has held numerous committee positions. She is currently completing her PhD in Leadership.
Candidate Statement:
Thank you for considering me for this incredible opportunity to serve the members of the Academy of Orthopaedic PT. I have been a member since 1982. As I review the work that has previously been done in the Section/Academy, I am excited for future possibilities and I am inspired by those who have made this journey a reality. I look forward to joining the Board and working towards expanding the vision while moving closer to the goals that have been set by the Academy. I believe we still have work to do to create opportunities for the public to access our services, to mentor others as they discover and use their leadership skills to serve our profession, and to continue to define and clarify our role as healthcare providers in today's society. I have a creative and open mind and am known for thinking outside of the box. I believe that we need this type of leadership on our team to assist as our mission is accomplished. Working to further create and refine our Clinical Practice Guidelines should be an ongoing process. Collaborating with APTA and providing expert consultation as consumer access to our services is negotiated is critical from the AOPT, since I believe that all patients, independent of their medical diagnoses, have orthopaedic components to consider. Thank you for the opportunity to run and I look forward to serving you responsibly in this role.
S. Tyler Shultz, PT, DPT
Candidate Introductory Video:
Click here to meet this candidate.


Candidate Profile
I am an Assistant Professor and clinician at Wingate University in Wingate, North Carolina. I am the lead physical therapist in an on-campus, pro-bono clinic treating both university students and under-served community members. I am a graduate of Massachusetts General Hospital's Institute of Health Professions Orthopaedic Residency program and have been board certified in orthopaedic physical therapy since 2016. I have been a member of the APTA since 2008, and served on the editorial advisory board for Perspectives magazine. At the Academy level, I have served on the Public Relations and Marketing Committee since 2010 and the Academy Historian since 2017. In the North Carolina Chapter, I have served on the Nominating Committee since 2017, and have served as Nominating Committee Chair for the past year. In 2019, I was nominated by the North Carolina Chapter to receive the APTA's Emerging Leader Award.
Candidate Statement:
As a member of the Academy's Public Relations Committee and as the Academy Historian, I understand the governance, committee structure, special interest groups, and strategic plan of the Academy. I have assisted several special interest groups to assist with social media branding and marketing. Due to social media branding of the Academy, EIGs, and SIGs, I am up to date on the Academy's current activities and initiatives. These experiences have given me an appreciation of how the Academy has grown over the past 45 years, and how the Academy can continue its accomplishments. The Academy will soon be faced with the challenging task of developing a new strategic plan that will ensure continued Academy growth and evolution to meet the growing needs of our members, the public, and our patients. I assisted with the development of the strategic plan for the North Carolina Chapter of the APTA, and learned that a well-planned, diverse strategic plan is critical for the future success of any Academy, Section, or Chapter. If elected, I would bring my skills and past experiences with the Academy to the Director position, providing a contemporary approach to the position while maintaining respect for the past work of Academy leadership.
nominating committee member
Marcie Harris-Hayes, PT, DPT, MSCI
Candidate Introductory Video:
Click here to meet this candidate.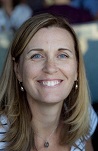 Candidate Profile
I am a Professor in the Program in Physical Therapy and Department of Orthopaedic Surgery at Washington University and director of the Rehabilitation Research for Orthopaedic Conditions (RROC) laboratory. My NIH-funded research is focused on rehabilitation for patients with prearthritic hip disorders. I have served in a number of roles at the National, Academy and Chapter levels. In the Academy, I have served on the Finance committee, Research committees and the task force for Clinical practice guidelines specific to the hip. Specific to the role of Nominating committee member, my previous experience as Missouri Chapter President, has enhanced my ability to match people to service positions and to encourage their involvement. I regularly attend APTA and AOPT activities, and am a member of the CORRT program (https://www.corrt.pitt.edu/), a large, national network of physical therapist-investigators; therefore I have a broad network of physical therapists from which to draw potential candidates.
Candidate Statement:
Given the recent acknowledgement of the opioid epidemic, we, as physical therapists, have a unique opportunity to increase our reach and improve the lives of patients with safe and effective treatments. The Academy is pursuing important initiatives to help us seize that opportunity. To name a few, the activities related to clinical practice guideline development and implementation, the development of the outcomes database, providing important grant funds to support clinical research and increasing public awareness of our role in healthcare. As a member of the nominating committee, I will seek qualified candidates who will serve to continue these initiatives and bring new initiatives to the Academy. I will seek expert clinicians, investigators and educators with broad perspectives to serve the Academy. Through my involvement in APTA activities, such as CSM and the Annual orthopedic meeting, and my membership in the CORRT program (https://www.corrt.pitt.edu/), a large, national collaboration of physical therapist-investigators, I have a broad network of physical therapists from which to seek potential candidates for the Academy. I would appreciate your support in the upcoming election. Thank you.
Annette Karim, PT, DPT, PhD
Candidate Introductory Video:
Click here to meet this candidate.


Candidate Profile
I, Annette Karim, PT, DPT, PhD, am an Assistant Professor of Physical Therapy and the Director of the PhD in Rehabilitation and Movement Science and post-professional programs at Azusa Pacific University in Southern California. In practice I work with performing artists in a broad range of demographics. I am a board-certified orthopaedic clinical specialist, residency graduate, fellow of the Academy of Orthopaedic Manual Physical Therapists, clinical mentor for the Manual Therapy Institute Fellowship, and teaching faculty for the Azusa Pacific Movement and Performance Fellowship and for Movement Links®. I have served as an AOPT mentor, Performing Arts SIG research committee chair, and for 6 years as the PASIG president. I was on the taskforce that developed the Performing Arts Description of Fellowship Practice to help new fellowships with the accreditation process. I also served the TPTA-Southeastern District for several years as 2nd Vice Co-Chair, responsible for the continuing education program.
Candidate Statement:
As a second-career physical therapist I have been blessed with friends, colleagues, and patients on my journey from growing up in my family's grocery store to being the first in my family to go to college, to a career in the performing arts and then to the shift to doctoral education. The jump from my non-traditional entrance to physical therapy education, practice, and research to post-professional certifications and leadership roles come by the way of receiving outstanding mentorship. It is from these paradigm-shifting conversations that I am pivoted toward developing leaders and creating new pathways, "paying it forward." I create connections, facilitate safe discussion and committee work, and launch ideas into action with accountability in the plan. While serving as PASIG president, I have sought to align our SIG goals with our academy goals, and have participated in AOPT strategic planning sessions that steer our focus as members through vision and mission applications. I would like to see the inclusion of our membership and leadership to reflect the diversity that is present in the population of PT and PTA practitioners in the United States. If elected, I will purposefully seek to create mentoring relationship among those under-represented with a goal of inclusion in our leadership.
Saurabh Mehta, PT, MSc, PhD
Candidate Introductory Video:
Click here to meet this candidate.


Candidate Profile
Saurabh obtained his physiotherapy degree from India, research-based Master's Degree in Rehabilitation Sciences from the University of Manitoba, and PhD in Rehabilitation from McMaster University in Ontario, Canada. Saurabh has practiced and taught in physical therapy programs in India, Canada, and the USA. Currently, he is an associate professor within the School of Physical Therapy at Marshall University in Huntington, West Virginia and also holds an appointment of Clinical Associate Professor in the Department of Orthopedic Surgery, Marshall University School of Medicine. He is a member of the research committee of the Academy of Upper Extremity and Hand Rehabilitation of the American Physical Therapy Association (APTA). He leads the Clinical Practice Guideline Development Group for Rehabilitation of Wrist Fractures under the auspices of the Academy of Orthopedic Physical Therapy, APTA. He is a member of an International Group of Scientists who are collectively developing Core Outcome Set of elbow injuries.
Candidate Statement:
The Academy (AOPT) strives to promote the excellence in orthopedic physical therapy (OPT) by facilitating creation, dissemination, and successful implementation of advanced knowledge OPT. The leadership of different committees within the AOPT has a very important role to propel this endeavor. Therefore, it is critical for the nominating committee to develop a slate of high quality candidates to fulfill this mission. As a member of the nominating committee, I will have an excellent opportunity to work with the leaders to advance the boundaries of OPT. I am a mid-career academician and have experience working across different committees at the university level as well as nationally in the Academy of Upper Extremity and Hand Rehabilitation (AHUEPT) where I have served in the research committee for the past 3 years. I co-lead the clinical practice guidelines development group for wrist fractures, which is under the auspices of AOPT and AHUEPT. While this group has scholarly agenda, it has allowed me to develop vital connections, understand the functioning of the AOPT, and network with the recognized leaders within the AOPT. Through these experiences, I have worked with individuals from diverse backgrounds and witnessed the productive results of team work. I look forward to bringing these experiences to the nominating committee of the AOPT. I also consider this as an excellent avenue for my personal and professional growth. I feel extremely privileged to be afforded this opportunity to contest this election to serve in this very important role within the AOPT.
Jacob Thorp, PT, DHS
Candidate Introductory Video:
Click here to meet this candidate.


Candidate Profile
I've been licensed to perform physical therapy and an active APTA member for 20 years. My entire career has focused on outpatient orthopaedics with a specialization in manual therapy for the management of chronic pain. I practiced the first eight years of my career as a clinician and then became a faculty member after I earned my DHS. In addition to earning my OCS in 2013, I've also passed my Manual Therapy Certification (MTC) from the University of St. Augustine in 2007. Several years ago, I passed my dry needling certification and currently work as a lab instructor for Myopain Seminars. In March 2019, I was selected to be the developing PT program director at Charleston Southern University. I've held several state and national positions including a six-year membership of the AOPT education committee. I'm currently editing the spine chapters of the 8th edition of Kisner's and Colby's Therapeutic Textbook.
Candidate Statement:
As a lifelong learner, I'm a huge advocate for the AOPT and place a high value contributing to the direction of our profession. Our academy has transformed the physical therapy from a certification to an autonomous profession that acts a point of entry for patients into the healthcare system. As a full-time educator, developing program director, and active researcher, I believe I have much to contribute to nominating committee. My expertise is in the management of chronic pain. Over the past few years, evidenced-based practice has focused on the concepts of central and peripheral sensitization as well as an interprofessional approach including behavior pain management. It is my desire to identify the most qualified candidates that will continue to guide our organization to success.