SINGLE MONOGRAPH SALE
27.12, Knee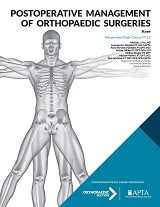 Description:
In this monograph, the authors first introduce basic principles of rehabilitation and rules for progression. Detailed sections on common pathologies then follow. Pathologies include meniscal, osteoarthritic cartilage injuries, ligamentous ruptures, and patellofemoral injuries. Each section covers background information on the nature and scope of the injury, indications that lead to various surgical interventions and then specific considerations for rehabilitation. Postsurgical complications are addressed and also details governing the phasic breakdown of the rehabilitation process. Appropriate goal setting and outcomes related to return to function are discussed.
Three case studies provide a chance for the reader to apply the information gleaned from the monograph. The first case is 72-year-old female who is a retired school teacher. She presents to the clinic one week following a right cemented posterior cruciate ligament sparing total knee arthroplasty. The second case describes a 57-year-old male fitness instructor who slipped and fell rupturing his patellar tendon. He then underwent a patellar tendon repair with tension band reinforcement 6 days later. The last case is a preoperative case of a 19-year-old collegiate field hockey player who sustained a right anterior cruciate ligament injury and peripheral medial meniscus tear while cutting during an off season spring training session.

The collaborative effort and expertise of the authors have led to a very informative resource on effective rehabilitation for some of the most common surgical interventions for knee pathology. Postsurgical rehabilitation can be challenging for clinicians unless they understand the premise and details of the surgical procedure. The authors provide this resource and also integrate the rehabilitation process in a systematic and evidence-based manner. The result should lead to an optimal rehabilitation outcome for managing the patient who has undergone knee surgery.
Authors:
Michael J. Axe, MD
Lynn Snyder-Mackler, PT, ScD, FAPTA
Anna Shovestul Grieder, PT, DPT, OCS
Jeffrey Miller, PT, DPT, OCS, SCS
Melissa Dreger, PT, DPT
Michael Palmer, PT, DPT, OCS
Tara Jo Manal, PT, DPT, OCS, SCS, FAPTA
Learning Objectives:
Upon completion of this monograph, the participant will be able to complete the following with respect to these
surgical interventions: anterior cruciate ligament reconstruction posterior cruciate ligament reconstruction, arthroscopic lateral retinacular release and patellar realignment, meniscectomy and meniscal repair, patellar/ quadriceps tendon repair, high tibial osteotomy, articular cartilage repair, and total knee replacement:
Discuss common surgical interventions for patients with knee pathology.
Identify modifications and possible complicating factors in the rehabilitation process for a patient who has undergone these specific knee surgeries.
Describe the evidence-based physical therapy guidelines for a postoperative patient for each surgical intervention mentioned.
Demonstrate knowledge of the different phases of rehabilitation for a postoperative patient for each knee surgery.
Describe the rehabilitation goals for a postoperative patient for a patient undergoing each of the above-mentioned surgical interventions for the knee.
Copyright Statement:
Materials in this course—unless otherwise indicated—are protected by the United States Copyright Law [Title 17, U.S. Code]. Materials are presented in educational context for personal use and study and should not be shared, distributed, or sold in print—or digitally—outside the scope of this course without AOPT permission. Copyright 2019, Academy of Orthopaedic Physical Therapy, APTA, Inc. All rights reserved.
Pricing:
Registrant
Price (USD):
Online Only
Academy of Orthopaedic Physical Therapy Member

$35

Non-Academy Member

$50
---
Buy This Course
You need to login to purchase this course. If you do not have an account, click on the box below and follow the instructions for creating an account.
Login or Create Account