Marriott World Center
Orlando, Florida
May 2 - 4, 2013


The First Annual Orthopaedic Section Meeting will be held May 2 to 4, 2013 at the beautiful Orlando World Center Marriott in Orlando, Florida! We are excited to present our first annual meeting for the master clinician! Plan to attend this hand's-on advanced continuing education event and be a part of an exceptional meeting as well as have opportunities to socialize and network with your colleagues. This 2-day meeting will provide the physical therapist attendee an opportunity to attend general session lectures and hand's-on breakout sessions related to physical therapist examination and treatment of the lumbosacral spine and lower extremity. Attendees will have the ability to choose between multiple small-group breakout sessions during both days of this conference.
CLICK HERE TO REGISTER
CLICK HERE TO DOWNLOAD A BROCHURE

Program Information
Thursday, May 2, 2013: 6:00 PM – 9:00 PM
Opening Reception & Keynote Presentation
Presenter: Justin Moore, PT, DPT, Vice President, APTA Public Policy, Practice and Professional Affairs Dept.

Friday, May 3, 2013: 8:00 AM – 5:00 PM
General Session:
Implementing Evidence-Based Standards in Low Back Pain Care
Presenters: Anthony Delitto, PT, PhD, FAPTA; Julie Fritz, PT, PhD, ATC; James Irrgang, PT, PhD, ATC, FAPTA

Description: The session will begin with a "report card" on how low back pain care is managed in our health system, including up to date review of costs and utilization of physical therapy. Any attempt to better optimize care will require agreed upon standardization of care and an implementation plan that includes sound measurement and surveillance. In this session, we will provide a general overview of the requirements of a quality-improvement based approach to low back pain care by first defining variation in care and illustrating warranted and unwarranted variation. We will provide a general overview of attempts at standardization that include classification-based approaches and the evidence for and against such approaches. Finally, we will discuss the measurement challenges that accompany implementation approaches, including those related to process of care, outcomes and associated databases (e.g., claims).

Concurrent Breakout Sessions:
** On Friday and Saturday, four concurrent breakout sessions will be offered. The registrant will attend three out of four breakout sessions each day, based on order of preference indicated on the registration form. Note: space is limited, and therefore the attendee's breakout session assignments will be given on a first-come, first-serve basis.

Breakout 1: Education and Counseling Strategies for Patients with Low Back Pain and Related Anxiety, Depression, or Generalized Pain
Presenter: Joseph Godges, DPT, PT, MS, OCS
Description: This session will enable therapists to improve their effectiveness with providing treatment for patients who have mental impairments that coexist with the physical impairments associated with low back pain. The focus of instruction will be to assist therapists with integrating basic principles of psychotherapy into physical therapy. Patient education and counseling strategies discussed during this session will equip therapists with fundamental skills to address 1) cognitive tendencies, such as anxiety or fear, 2) affective tendencies, such as depression, and 3) generalized pain, such as maladaptive central nervous system sensitivity. Click here for session objectives.

Breakout 2: Thrust Manipulation Skills for the Lumbar and Lumbosacral Spine
Presenter: William O'Grady, PT, DPT, OCS, FAAOMPT
Lab Assistant: Dr. Laurie McLaughlin, PT, DSc, FCAMPT, C<AG, MCPA

*** This breakout session is for physical therapists with evidence in prior instruction in HVLA techniques.
Description: This break out session will be primarily devoted to developing and improving the psychomotor skills necessary to perform safe and effective thrust manipulations to the lumbo-sacral spine. Iit will briefly discuss the basic ground rules for performing thrust manipulations using component techniques as well as the indications and evidence supporting manipulation. The lab session will be devoted to honing your skills with a short series of drills to help develop speed, stance, positioning, and proper use of core stabilizers of the therapists spine during manipulation.. Finally, some problem solving for accomplishing effective lumbar manipulation for different clinician and patient body sizes and conditions will be demonstrated. Click here for session objectives.

Breakout 3: Lumbopelvic Motor Control: Moving Evidence Into Action
Presenter: Deydre S. Teyhen, PT, PhD, OCS
Description: Although interventions designed to improve motor control such as lumbar stabilization training (core stability, Pilates, yoga, cross-fit, etc) receive considerable attention and "hype" in the popular media, understanding the foundational skills and motor control tasks are required for successful patient outcomes. This lab-based course will help translate the current evidence to facilitate clinical decision-making with practical applications for the implementation of motor control and therapeutic exercises for the initial phases of treatment. This course will focus on the clinical application of current best evidence to optimize the function of the deep trunk muscles to improve patient-oriented outcomes and costs of care. Click here for session objectives.

Breakout 4: Assessment and Treatment of Movement System Impairments in People with Low Back Pain
Presenter: Linda Van Dillen, PT, PhD
Description: The Kinesiopathologic Model (KPM) is a conceptual model that describes the processes contributing to the development and persistence of musculoskeletal pain conditions. The Movement System Impairment (MSI) assessment and related treatment for LBP is based on the KPM principles. This session will provide a brief overview of this conceptual model that serves as the basis for MSI assessment and treatment. There will be demonstration, practice and discussion of key tests used for assessment as well as guidelines for classification. Strategies used to treat the most common LBP subgroup will also be demonstrated and practiced. Emphasis will be placed on incorporating classification-directed strategies into functional activities as a treatment. Click here for session objectives.

Saturday, May 4, 2013: 8:00 AM – 5:00 PM

General Session:
Factors influencing rehabilitation outcomes in lower extremity conditions.
Presenters: Terese Chmielewski, PT, PhD, SCS; Marcie Harris Hayes, PT, DPT, MSCI, OCS; Bryan Heiderscheit, PT, PhD Description: Better understanding of the physical, biomechanical and psychosocial factors associated with rehabilitation outcomes is needed to optimize evaluation and treatment strategies for lower extremity conditions. In this session, we will first present the current evidence reporting risk factors for conditions such as femoroacetabular impingement and osteoarthritis. Published treatment guidelines for these conditions will also be discussed, highlighting the need to better clarify the role of physical therapy in management of these conditions. Next, scientifically supported strategies will be described to identify movement compensations that may occur during gait and similar activities using biomechanical lab instrumentation and feasible alternatives for the common clinic environment. Finally, the influence of psychosocial factors on the lower extremity rehabilitation outcomes will be discussed, with specific focus on the knee. Concurrent

Breakout Sessions:

Breakout 5: Hip Techniques
Presenter: Keelan Enseki, PT, SCS, OCS
Description: This session is intended to allow practical application of the concepts described in the general sessions presented at the annual meeting. Emphasis will be placed upon utilizing techniques and tests to classify individuals with pain of the hip region into treatment categories. Additionally, treatment techniques will be discussed and applied in this session. A particular focus will be placed on non-arthritic hip pain. Current outcome measures for this population will also be discussed. Click here for session objectives.

Breakout 6: Evaluation and treatment considerations for Lower Extremity Osteoarthritis
Presenter: G. Kelley Fitzgerald, PT, PhD, FAPTA
Description: Recent evidence-based guidelines have recommended a number of physical therapy interventions for the treatment of people with lower extremity osteoarthritis (OA). While many of the interventions appear to be straight forward on the surface, their general effects on pain and function have had only fair to moderate results. This session will be an interactive discussion on considerations for selecting and implementing various physical therapy intervention approaches that might improve the probability of successful physical therapy treatment outcome for people with lower extremity (OA). Click here for session objectives.

Breakout 7: Plantar and Posterior Foot Pain: Focus on Plantar Fasciitis and Achilles Tendinopathy
Presenter: Deb Nawoczenski, PT, PhD
Description: Plantar fasciitis and Achilles tendinopathy are two of the most common conditions of the plantar and posterior foot for which patients seek foot and ankle care. This session will incorporate best evidence for clinical interventions related to plantar fasciitis and 'tendinopathy', with emphasis on Achilles tendinopathy. Click here for session objectives.

Breakout 8: Evidence-Based Evaluation and Treatment of Anterior Cruciate Ligament Injury in Active Individuals
Presenter: Lynn Snyder-Mackler, PT, ScD, SCS, FAPTA
Description: The evidence strongly suggests successful outcomes for active individuals with anterior cruciate ligament injury or reconstruction can be consistently achieved with the rehabilitation that includes early weight bearing, using a combination of weight-bearing and non-weight-bearing exercise focused on quadriceps and lower extremity strength, and meeting specific objective requirements for return to activity. Emerging evidence on rehabilitative interventions and advancements in concomitant surgeries, including those addressing chondral and meniscal injuries, continues to grow and greatly affect the rehabilitative care of patients with anterior cruciate ligament injury and reconstruction. This program will interactively challenge common assumptions and practices that persist in the face of the evidence. Click here for session objectives.
Registration Fees:


Early-Bird
(prior to 3/8/13)

Advance
(prior to 4/1/13)

On-site
(begins 4/2/13)

PT Orthopaedic Section Member

$495.00
$545.00
$665.00
PT APTA Member

$545.00
$595.00
$700.00
PT Non-APTA Member

$745.00
$795.00
$900.00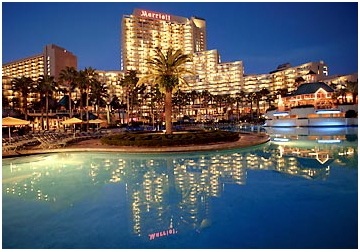 Book your guestroom NOW! We have secured guestrooms at the Marriott World Center Orlando. The following link will take you directly to our guestroom block. Space is limited, so reserve your room soon!

Room block direct link: https://resweb.passkey.com/go/ORS2013
If you prefer to book your room over the phone, please use the following numbers:
Reservations Toll Free: 1-888-789-3090
Reservations Local Phone: 1-506-474-2009
We are thrilled to have secured a guestroom rate of $129.00 single/double. The Orlando World Center Marriott towers above more than 200 prime Central Florida acres - lush, green and beautifully landscaped, with devotion to native tropical plant life. In this magnificent location, close to all of the area's major attractions, is an Orlando, Florida resort that offers everything guests could possibly want.