Annual Orthopaedic Section Meeting
REGISTER NOW!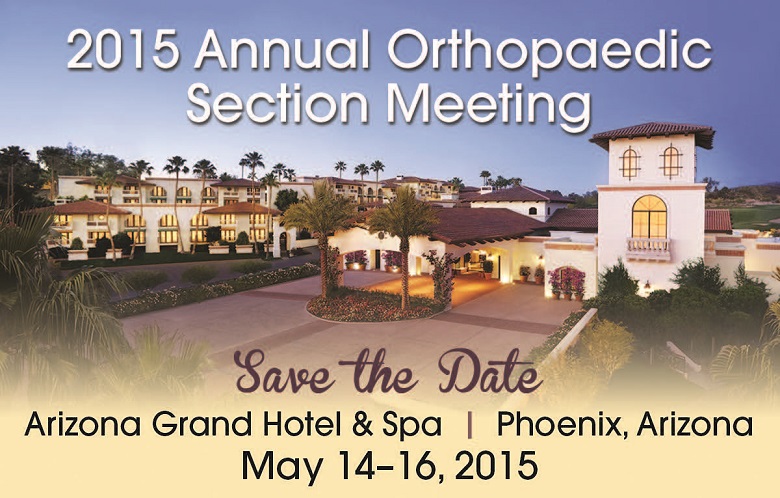 Our 3rd Annual Orthopaedic Section Meeting will be held at the beautiful Arizona Grand Resort & Spa in Phoenix, Arizona, May 14-16, 2015. During this 2-day meeting, we will explore the multidiscipline advances in rehabilitation through the episode of care of various lower extremity dysfunctions, treatment of osteoarthritis from presurgical to postsurgical, and the physical therapist's role in advances in regenerative medicine. Experts in the field will gather together for lecture presentations and small group, hands-on lab sessions. Our goal is to describe the current research in clinical practice. We want to create a meeting where we can interact, learn, and challenge each other as colleagues. We are listening to your suggestions, and will continue to strive to meet your educational needs as an advanced practicing clinician.
So please, plan to join us in Phoenix, Arizona, on May 14-16, 2015, for our third Annual Orthopaedic Section Meeting on "Maximizing Outcomes: Multidisciplinary Advances in the Continuum of Care of Lower Extremity Dysfunctions" at the beautiful Arizona Grand Hotel & Spa.
Click HERE to register!
Interested in Exhibiting? Click here for details.
Dedicated to Advanced Orthopaedic Practice for Physical Therapists

---
We hope everyone is following the adventures of Stanley Paris
as he makes his attempt for a record-breaking solo circumnavigation of the earth in his very excellent sailboat, the Kiwi Spirit. Stanley continues to check in on his way into Bermuda. Stanley, as you may know, was the Orthopaedic Section's first President! His journey raises funds for the Foundation for Physical Therapy and we certainly wish him well!
Click here to access Stanley's blog

To see his progress at sea in live time press here: http://my.yb.tl/kiwispirit
---
Foundation for Physical Therapy Awards
2014 Florence P. Kendall Doctoral Scholarships and Research Grants totaling $215,000
Click here for details.

---
APTA's Recognition of Advanced Proficiency for 2013-2014

Congratulations to the Orthopaedic Section Physical Therapist Assistant (PTA) Members who have achieved APTA's Recognition of Advanced Proficiency for 2013-2014. These PTAs have met all of the eligibility requirements for recognition, including a minimum of 2,000 hours of clinical experience in the selected category of work, a minimum of 60 hours of continuing education in the past 5 years, and significant contributions to their community and/or the profession. APTA congratulates the recipients who were recognized during APTA's Honors and Awards Ceremony!
---
CONGRATULATIONS TO NEWLY CREDENTIALED AND RECREDENTIALED RESIDENCY PROGRAMS!!
It is our pleasure and privilege to congratulate the following Orthopaedic Residencies that have been newly credentialed by APTA
---
Orthopaedic Section Clinical Research Network (CRN) Grant Update
Creation of the Orthopaedic Physical Therapy – Investigative Network (OPT-IN) for the Optimal Screening for Prediction of Referral and Outcome (OSPRO) Cohort Study.
Read on
.
---