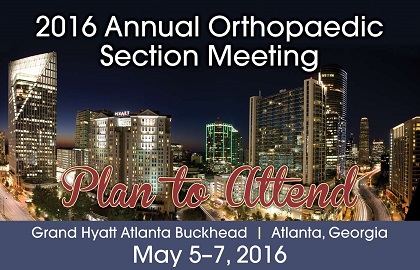 4th Annual Orthopaedic Section Meeting
REGISTRATION IS OPEN!
Registration IS NOW OPEN for the 4th Annual Orthopaedic Section Meeting 2016. The meeting will be held in Buckhead-Atlanta, Georgia, May 5-7, 2016. The theme for the meeting is, Treating the Cervical and Lumbar Spine: Can Art, Science, and Practice Guidelines All Get Along?
Our focus during the general sessions is to look at the Myths vs. Realities of the Clinical Practice Guidelines (CPGs) During Differential Diagnosis and Clinical Decision Making for the Cervical and Lumbar Spine. We will then transition into the lab-intensive breakout sessions, which will begin with a case study round table discussion and quickly progress into hands-on instruction, demonstration, and practice with the experts in our field.
We have listened to your feedback and have incorporated some positive changes for 2016! Speakers will present in the morning general session and lead the breakout sessions to facilitate greater educational continuity. This will afford participants more time for the hands-on lab sessions and enhance the overall experience. We are excited to also invite Physical Therapist Assistants to be a part of the Annual Orthopaedic Meeting and to offer an early bird group discount rate.
Click HERE for Details and to Register
---
2016 Orthopaedic Section Election Results
The notarized results are in! Congratulations to the following individuals who have been elected to Orthopaedic Section office:
Orthopaedic Section President: Stephen McDavitt, PT, DPT, MS, FAAOMPT
Orthopaedic Section Director: D. Scott Davis, PT, MS, EdD, OCS
Orthopaedic Section Nominating Committee Member: Carol Courtney, PT, PhD, ATC, FAAOMPT
These individuals will begin their terms of office following the Orthopaedic Section's Membership Meeting at CSM 2016.
---
CONGRATULATIONS TO THE 2016 ORTHOPAEDIC SECTION AWARD RECIPIENTS!
Outstanding PTA Student Award: Travis Dills, SPTA
Outstanding PT Student Award: Christopher Renfrow, SPT
James A. Gould Excellence in Teaching Orthopaedic Physical Therapy Award: George Davies, DPT, MED, PT, SCS, ATC, LAT, CSCS, PES, FAPTA
Rose Excellence in Research Award: Anthony Delitto, PT, PhD, FAPTA

Richard W. Bowling Richard E. Erhard Orthopaedic Clinical Practice Award: Lynn Snyder-Mackler, PT, ATC, ScD, SCS, FAPTA
Paris Distinguished Service Award: Guy Simoneau, PT, PhD, ATC
Please plan to join us as we recognize these individuals at the Orthopaedic Section's Awards Ceremony at the 2016 CSM in Anaheim, Friday, February 19th. Location details can be found here.
---

Join us at CSM 2016!
Be sure to check out the outstanding programming the Orthopaedic Section will be offering at the Combined Sections Meeting (CSM) in Anaheim, California, February 17 - 20, 2016. In addition, we are offering excellent pre-conference courses. Plan to register soon, as space is limited!
---
ARDMS MAINTAINS THE REGISTERED MUSCULOSKELETAL SONOGRAPHY CREDENTIAL FOR PHYSICAL THERAPISTS
The Registered Musculoskeletal Sonography (RMSK) credential was first offered in 2012 by the American Registry for Diagnostic Medical Sonography (ARDMS). Physical therapists have qualified to sit for the examination from the outset. In January 2015 the ARDMS announced it was creating a new credential the Registered Musculoskeletal Sonographer (RMSKS). Physical therapists were no longer qualified to sit for the physician RMSK and were only eligible for the RMSKS credential. The Imaging Special Interest Group through the Orthopaedic Section and in coordination with APTA responded and asked the ARDMS to revisit their decision. Recently the ARDMS acknowledged the scope of practice of physical therapists better aligns with the physician RMSK credential and physical therapists will retain the RMSK and continue to qualify to sit for the RMSK. Additional information can be found at: www.ardms.org/get-certified/RMSK/Pages/musculoskeletal-sonography.aspx
---
Orthopaedic Section PTA Advanced Proficiencies Task Force
Identifies Advanced Scope of Work Competences for the PTA to Refine their Advanced Proficiency Education for Working within the Orthopaedic Practice Setting
In 2010, APTA developed the PTA Advanced Proficiency Pathways program to provide PTAs (physical therapist assistants) with advanced post graduate educational opportunities aligned with their current Associates Degree and scope of work as defined within APTA positions and policies. To realize the necessary advanced clinical behavioral components across physical therapist practice, APTA embarked on an effort to identify advanced scope of work proficiencies for the PTA across multiple physical therapist practice areas. Read on.
---
Interested in a Concise Red-flag Screening Tool?
Dr. Steven Z. George, PT, PhD, was recently interviewed by the Orthopaedic Section's Research Committee Chair, Dr. Scott Davis, PT, MS, EdD, OCS, to discuss the recent
JOSPT
article titled "Development of a Review-of-Systems Screening Tool for Orthopaedic Physical Therapists: Results From the Optimal Screening for Prediction of Referral and Outcome (OSPRO) Cohort". Check it out!
https://www.orthopt.org/content/c/videos
---
A TIME TO TAKE A STAND
Our Help is Needed to Protect Physical Therapist Practice in North Carolina
Last month, the North Carolina Acupuncture Licensing Board filed a lawsuit to make dry needling unavailable to patients who benefit from it in North Carolina. The members of the Acupuncture Board launched their lawsuit to prevent physical therapists from competing against acupuncturists. Their lawsuit seeks an order declaring that dry needling by physical therapists is the unauthorized practice of acupuncturea Class 1 misdemeanor. In other words, the Acupuncture Board wants to make dry needling a crime. Read on.
---
Orthopaedic Instructor Alert...
Foot and ankle information now available!
The Orthopaedic Section and the Foot and Ankle Special Interest Group (FASIG) are proud to announce the completion of the Foot and Ankle Curricular Guidelines for Physical Therapist Professional Degree Programs
Want to round out your orthopaedic curriculum?
Looking to review your references for orthopaedic content?
Need to update teaching materials for the foot and ankle?
Download the most complete review of current orthopaedic information for the entry-level physical therapist today. It's free! Brought to you by your membership dues, your Orthopaedic Section, and the Foot and Ankle Special Interest Group!
---
Foundation Announces 2015 Recipients of Postprofessional Doctoral Scholarships and Fellowship Totaling $250,500
The Foundation recently awarded our 2015 Promotion of Doctoral Studies (PODS) Scholarships and New Investigator Fellowship Training Initiative. Please note that Orthopaedic section members Allyn Susko Bove, Rebekah Lawrence, and Philip Malloy received PODS II Scholarships, and Amee Seitz received the New Investigator Fellowship Training Initiative. The full press release can be found on the Foundations website. Click
here
to access this press release.
---
PTA Recognition of Advanced Proficiency
The PTA Recognition of Advanced Proficiency Program recognizes physical therapist assistants (PTAs) who have achieved advanced proficiency through education, experience, leadership and as part of the PT/PTA team in a specified area of work: acute care, aquatic, cardiovascular/pulmonary, education, geriatric, integumentary, musculoskeletal, neuromuscular, oncology, and/or pediatric physical therapy. This brand signifies that the recipient has gone above and beyond entry-level education in their selected area of work and sets the recipient apart from other providers.
The following Orthopaedic Section members have met all of the eligibility requirements for the 2014-2015 American Physical Therapy Associations Physical Therapist Assistant (PTA) Recognition of Advanced Proficiency. Read on.
---
Imaging Education Manual Now Available
The Imaging Education Manual has been created to facilitate the continued development of imaging instruction in physical therapist education and to heighten awareness among academic and clinical faculty of the legislative and regulatory issues the physical therapy profession is facing. The IEM provides resource information to assist faculty in curriculum planning and imaging instruction in both academic and clinical venues. The ultimate goal is that all physical therapist professional educational programs provide appropriate imaging education based on sound evidence, current APTA positions/policies, and projected future practice models as endorsed by the APTA Vision Statement and other association documents.
Click here to access this document and resource list.

---
Physical Therapy or Advanced Imaging as First Management Strategy Following a New Consultation for Low Back Pain in Primary Care:
Associations with Future Health Care Utilization and Charges

Fritz JM, Brennan GP, Hunter SJ. Physical therapy or advanced imaging as first management strategy following a new consultation for low back pain in primary care: Association with future health care utilization and charges. Health Services Research. 2015. DOI: 10.1111/1475-6773.12301
This study is an excellent example of health care utilization research in physical therapy. In this retrospective analysis, individuals with low back pain (LBP) who sought primary care and were initially referred for advanced imaging had a higher one-year health care utilization ($4,793 on average) than those individuals who were initially referred to physical therapy. Additionally, the odds of all utilization outcomes were higher for patients who received advanced imaging first compared to those that received physical therapy first. This study concluded that patients who consulted a primary care provider for uncomplicated LBP and received health care beyond primary care had lower medical charges and decreased need for future health care if they started with physical therapy as compared to advanced imaging. Read on.
---
PTs Receive Millions in Funding For Patient-Centered Outcomes Research Initiative
Many congratulations to Anthony Delitto, PT, PhD, FAPTA, and Pamela Duncan, PT, PhD, FAPTA, being among 5 researchers to receive funding in the first-ever Patient-Centered Outcomes Research Institute Pragmatic Clinical Funding Initiative. Dr Delitto will investigate; Does prompt referral to physical therapy keep back pain from becoming a chronic condition. Dr. Duncan will investigate; Is it better for stroke patients to go home from the hospital sooner, with special planning, and recover there?
These very large and diverse pragmatic studies will be conducted within routine clinical settings and should produce data that will better enable clinicians to appreciate evidence for whether treatments work the same or differently in different patient groups. The clinical setting results data will provide patients and practitioners with useful evidence from which to make better-informed decisions that lead to better outcomes. For further information see http://www.apta.org/Media/Releases/Association/2015/2/24/
---
CONGRATULATIONS TO NEWLY CREDENTIALED AND RECREDENTIALED RESIDENCY PROGRAMS!!
It is our pleasure and privilege to congratulate the following Orthopaedic Residencies that have been newly credentialed by APTA
---
Orthopaedic Section Clinical Research Network (CRN) Grant Update
Creation of the Orthopaedic Physical Therapy Investigative Network (OPT-IN) for the Optimal Screening for Prediction of Referral and Outcome (OSPRO) Cohort Study.
Read on
.
---