---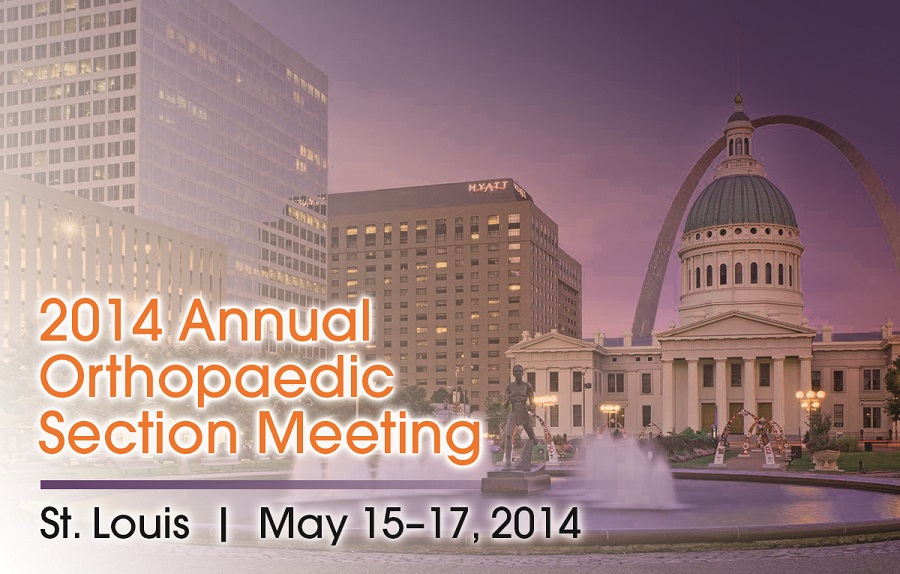 REGISTER NOW!!2014 Annual Orthopaedic Section Meeting
St. Louis, Missouri * Hyatt Regency at the Arch
May 15 - 17, 2014
"The Triangle of Treatment: Integrating Movement System Impairments, Manual Therapy and the Biopsychosocial Approach in the Treatment of the Upper Quarter"
Dedicated to Advanced Orthopaedic Practice
for Physical Therapists

REGISTER NOW!
The first Annual Orthopaedic Section Meeting in Orlando was a resounding success and we are excited to present our second Annual Orthopaedic Section Meeting in St. Louis. This is a unique 2-day meeting focusing on the latest clinical strategies in the clinical management of the upper quarter. The format will include lecture and laboratory experiences with outstanding speakers who are experts in their fields and leaders in clinical research. The breakout lab sessions are small in size to allow for hands-on instruction and feedback from the presenters and lab assistants. The general sessions will consist of a panel of speakers who will discuss how to integrate physical therapy treatments to achieve the best outcomes for patients with Upper Quarter dysfunctions. Attendees will have the ability to choose among multiple breakout sessions during both days of the conference. Click here for more details. We hope to see you at the Arch!

---
The American Physical Therapy Association (APTA) has announced the
2014 Honors and Awards Program recipients.
Congratulations to the Orthopaedic Section members who have been selected by
APTA's Board of Directors to receive the following awards (read on):
---
Foundation for Physical Therapy Awards $120,000 in Research Grants
Three physical therapists have each received $40,000 research grants from the Foundation for Physical Therapy in support of their projects to evaluate the effectiveness of physical therapy interventions. Read on.
---
CONGRATULATIONS TO NEWLY CREDENTIALED AND RECREDENTIALED RESIDENCY PROGRAMS!!
It is our pleasure and privilege to congratulate the following Orthopaedic Residencies that have been newly credentialed by APTA
---
Orthopaedic Section Clinical Research Network (CRN) Grant Update
Creation of the Orthopaedic Physical Therapy – Investigative Network (OPT-IN) for the Optimal Screening for Prediction of Referral and Outcome (OSPRO) Cohort Study.
Read on
.
---