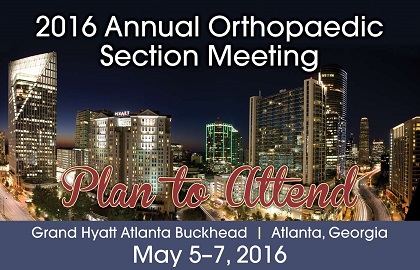 4th Annual Orthopaedic Section Meeting
REGISTRATION IS OPEN!
Registration IS NOW OPEN for the 4th Annual Orthopaedic Section Meeting 2016. The meeting will be held in Buckhead-Atlanta, Georgia, May 5-7, 2016. The theme for the meeting is, Treating the Cervical and Lumbar Spine: Can Art, Science, and Practice Guidelines All Get Along?
Our focus during the general sessions is to look at the Myths vs. Realities of the Clinical Practice Guidelines (CPGs) During Differential Diagnosis and Clinical Decision Making for the Cervical and Lumbar Spine. We will then transition into the lab-intensive breakout sessions, which will begin with a case study round table discussion and quickly progress into hands-on instruction, demonstration, and practice with the experts in our field.
We have listened to your feedback and have incorporated some positive changes for 2016! Speakers will present in the morning general session and lead the breakout sessions to facilitate greater educational continuity. This will afford participants more time for the hands-on lab sessions and enhance the overall experience. We are excited to also invite Physical Therapist Assistants to be a part of the Annual Orthopaedic Meeting and to offer an early bird group discount rate.
Click HERE for Details and to Register
---
The American Physical Therapy Association (APTA) has announced the 2016 Honors and Awards Program recipients, and it is my pleasure to inform you that the following Orthopaedic Section members have been selected by APTA's Board of Directors to receive the following awards. Read on.
---
Imaging Education Manual Now Available
The Imaging Education Manual has been created to facilitate the continued development of imaging instruction in physical therapist education and to heighten awareness among academic and clinical faculty of the legislative and regulatory issues the physical therapy profession is facing. The IEM provides resource information to assist faculty in curriculum planning and imaging instruction in both academic and clinical venues. The ultimate goal is that all physical therapist professional educational programs provide appropriate imaging education based on sound evidence, current APTA positions/policies, and projected future practice models as endorsed by the APTA Vision Statement and other association documents.
Click here to access this document and resource list.

---
Physical Therapy or Advanced Imaging as First Management Strategy Following a New Consultation for Low Back Pain in Primary Care:
Associations with Future Health Care Utilization and Charges

Fritz JM, Brennan GP, Hunter SJ. Physical therapy or advanced imaging as first management strategy following a new consultation for low back pain in primary care: Association with future health care utilization and charges. Health Services Research. 2015. DOI: 10.1111/1475-6773.12301
This study is an excellent example of health care utilization research in physical therapy. In this retrospective analysis, individuals with low back pain (LBP) who sought primary care and were initially referred for advanced imaging had a higher one-year health care utilization ($4,793 on average) than those individuals who were initially referred to physical therapy. Additionally, the odds of all utilization outcomes were higher for patients who received advanced imaging first compared to those that received physical therapy first. This study concluded that patients who consulted a primary care provider for uncomplicated LBP and received health care beyond primary care had lower medical charges and decreased need for future health care if they started with physical therapy as compared to advanced imaging. Read on.
---
CONGRATULATIONS TO NEWLY CREDENTIALED AND RECREDENTIALED RESIDENCY PROGRAMS!!
It is our pleasure and privilege to congratulate the following Orthopaedic Residencies that have been newly credentialed by APTA
---
Orthopaedic Section Clinical Research Network (CRN) Grant Update
Creation of the Orthopaedic Physical Therapy Investigative Network (OPT-IN) for the Optimal Screening for Prediction of Referral and Outcome (OSPRO) Cohort Study.
Read on
.
---