Annual Orthopaedic Section Meeting
REGISTER NOW!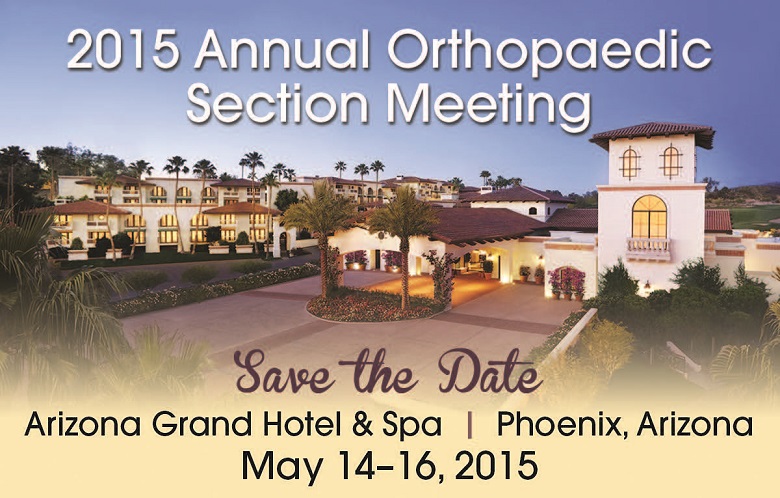 Our 3rd Annual Orthopaedic Section Meeting will be held at the beautiful Arizona Grand Resort & Spa in Phoenix, Arizona, May 14-16, 2015. During this 2-day meeting, we will explore the multidiscipline advances in rehabilitation through the episode of care of various lower extremity dysfunctions, treatment of osteoarthritis from presurgical to postsurgical, and the physical therapist's role in advances in regenerative medicine. Experts in the field will gather together for lecture presentations and small group, hands-on lab sessions. Our goal is to describe the current research in clinical practice. We want to create a meeting where we can interact, learn, and challenge each other as colleagues. We are listening to your suggestions, and will continue to strive to meet your educational needs as an advanced practicing clinician.
So please, plan to join us in Phoenix, Arizona, on May 14-16, 2015, for our third Annual Orthopaedic Section Meeting on "Maximizing Outcomes: Multidisciplinary Advances in the Continuum of Care of Lower Extremity Dysfunctions" at the beautiful Arizona Grand Hotel & Spa.
Click HERE to register!
Interested in Exhibiting? Click here for details.
Dedicated to Advanced Orthopaedic Practice for Physical Therapists

---
Imaging Education Manual Now Available
The Imaging Education Manual has been created to facilitate the continued development of imaging instruction in physical therapist education and to heighten awareness among academic and clinical faculty of the legislative and regulatory issues the physical therapy profession is facing. The IEM provides resource information to assist faculty in curriculum planning and imaging instruction in both academic and clinical venues. The ultimate goal is that all physical therapist professional educational programs provide appropriate imaging education based on sound evidence, current APTA positions/policies, and projected future practice models as endorsed by the APTA Vision Statement and other association documents.
Click here to access this document and resource list.

---
Physical Therapy or Advanced Imaging as First Management Strategy Following a New Consultation for Low Back Pain in Primary Care:
Associations with Future Health Care Utilization and Charges

Fritz JM, Brennan GP, Hunter SJ. Physical therapy or advanced imaging as first management strategy following a new consultation for low back pain in primary care: Association with future health care utilization and charges. Health Services Research. 2015. DOI: 10.1111/1475-6773.12301
This study is an excellent example of health care utilization research in physical therapy. In this retrospective analysis, individuals with low back pain (LBP) who sought primary care and were initially referred for advanced imaging had a higher one-year health care utilization ($4,793 on average) than those individuals who were initially referred to physical therapy. Additionally, the odds of all utilization outcomes were higher for patients who received advanced imaging first compared to those that received physical therapy first. This study concluded that patients who consulted a primary care provider for uncomplicated LBP and received health care beyond primary care had lower medical charges and decreased need for future health care if they started with physical therapy as compared to advanced imaging. Read on.
---
PTs Receive Millions in Funding For Patient-Centered Outcomes Research Initiative
Many congratulations to Anthony Delitto, PT, PhD, FAPTA, and Pamela Duncan, PT, PhD, FAPTA, being among 5 researchers to receive funding in the first-ever Patient-Centered Outcomes Research Institute Pragmatic Clinical Funding Initiative. Dr Delitto will investigate; "Does prompt referral to physical therapy keep back pain from becoming a chronic condition". Dr. Duncan will investigate; "Is it better for stroke patients to go home from the hospital sooner, with special planning, and recover there?"
These very large and diverse pragmatic studies will be conducted within routine clinical settings and should produce data that will better enable clinicians to appreciate evidence for whether treatments work the same or differently in different patient groups. The clinical setting results data will provide patients and practitioners with useful evidence from which to make better-informed decisions that lead to better outcomes. For further information see http://www.apta.org/Media/Releases/Association/2015/2/24/
---
Foundation for Physical Therapy Awards
2014 Florence P. Kendall Doctoral Scholarships and Research Grants totaling $215,000
Click here for details.

---
APTA's Recognition of Advanced Proficiency for 2013-2014

Congratulations to the Orthopaedic Section Physical Therapist Assistant (PTA) Members who have achieved APTA's Recognition of Advanced Proficiency for 2013-2014. These PTAs have met all of the eligibility requirements for recognition, including a minimum of 2,000 hours of clinical experience in the selected category of work, a minimum of 60 hours of continuing education in the past 5 years, and significant contributions to their community and/or the profession. APTA congratulates the recipients who were recognized during APTA's Honors and Awards Ceremony!
---
CONGRATULATIONS TO NEWLY CREDENTIALED AND RECREDENTIALED RESIDENCY PROGRAMS!!
It is our pleasure and privilege to congratulate the following Orthopaedic Residencies that have been newly credentialed by APTA
---
Orthopaedic Section Clinical Research Network (CRN) Grant Update
Creation of the Orthopaedic Physical Therapy – Investigative Network (OPT-IN) for the Optimal Screening for Prediction of Referral and Outcome (OSPRO) Cohort Study.
Read on
.
---